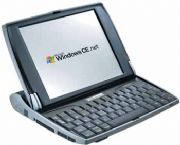 Microsoft plans to offer a netbook-friendly version of Windows 7 that can only run three programs at a time and has a less robust graphical interface than the complete version of Windows 7.
Called Starter, Microsoft plans to offer the low powered OS as a viable competitor in the netbook market, while also giving netbook customers the option to upgrade to a complete version of Windows 7 if they want to.
Microsoft is desperate for Windows to remain the netbook OS of choice after it began to compete seriously with Linux — an early favorite for netbooks — at the outset of 2009. This is important since netbooks are expected to be the most popular devices among consumers in the coming months. In fact, the market research firm Gartner expects netbooks will grow by 81 percent this year, and credits the compact units for keeping PC shipments growing in some markets (notably Europe). While Microsoft may be pinning its hopes to Windows 7, it's not clear how users will react to a limited OS like Starter. First of all, if Starter can run only three programs in practice doesn't that really mean you can only keep two applications open plus an antivirus program? That may make Windows 7 for netbooks a 'non-Starter' right there. Also, some users may see switching over to Windows 7 Starter from XP as a downgrade since a netbook running XP is only limited to what it can do by the computer's processing power. But more importantly, Windows — while still the dominant OS overall — is not the only user-friendly system you can find at an affordable price. Every year, Linux becomes more attractive to the average user and is expected to improve even more over time.
There are also reports that Google's Android OS may jump to the netbook from the smart phone, meaning even greater choice for users. To be a viable competitor, then, Windows 7 Starter will have to be a very compelling operating system. Not only that, but I expect many of you netbook customers out there would be unwilling to upgrade to a more complete version of Windows 7 — depending on the price tag, of course. Then again, while Windows 7 Starter may be less attractive because it can run only three programs at a time, a more complete version may not be necessary for a netbook. Consider my own situation: As I'm writing this, I am running iTunes, an instant messaging program, Firefox, and Gmail Notifier. Yet I could choose to run every single one of these functions through my Web browser.
In fact, I'm already moving away from my desktop and into the cloud since I'm writing this post on Google Docs and keeping up on Twitter with the TwitterFox browser add-on. All I'd need to do is stream my music through a service like LaLa or Project Playlist; run my IM through Meebo; and keep my Gmail tab open and I'd achieve the same results I have now while using only one program. Of course, if you plan to use your netbook as your primary computer, then a limited OS like Windows 7 may not work; but as a secondary device, a netbook loaded with Starter and a high-speed Internet connection may be all you need.