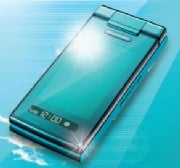 Cell phone addicts, listen up: The dreaded low-battery beep may soon be a thing of the past. Sharp has just unveiled the world's first solar-powered cell phone. Ready to get charged?
The phone, created by Sharp and Japanese network KDDI, is set to be released this summer. It works by using a special solar panel that snaps onto the device and soaks up the sun's rays. The companies say 10 minutes in the sun will give you enough juice for about a minute of talk time, or two full hours of standby power.
Even better for the tech-obsessed: Both the solar panel and the phone are fully waterproof. Conducting business poolside has never been simpler.
Other cell phone vendors are showing prototypes of solar-powered cell phones, and a number of solar chargers are avaiable for various electronics, including cell phones. But Sharp — which has committed to solar power plants — appears to be the first out of the gate with a solar-powered cell phone.
Unfortunately, the phones are only being released in Japan thus far, and there's no word yet when they could make their way to the States. The minute they do, though, consider my office officially relocated to the giant gator-shaped raft floating in the deep end.
Connect with JR Raphael on Twitter (@jr_raphael) or via his Web site, jrstart.com.