You know those posters that have an overall image, but if you look closer, that image is made up of hundreds of tiny photos? It's called a photo mosaic, and Foto-Mosaik-Edda is a free program that will generate them for you.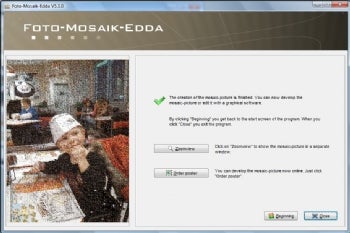 Start it up and point it toward a large photo collection. A few thousand photos is a good minimum. Add them to the database, then choose a single photo to make into a mosaic. That is what all these photos will be arranged to look like. You can fiddle with the photo density and many other options, then Foto-Mosaik-Edda gets to work.
It takes several minutes, all told, but the end result is an impressive high-resolution mosaic, suitable for a poster if you take it to Kinko's. The app even includes a simple photo viewer that easily zooms in and out, so you can see each individual photo as well as the entire mosaic.
Foto-Mosaik-Edda is free, and it does exactly what it's supposed to do, and well. If you've got a ton of photos of your kids, and want to give a relative a one-of-a-kind gift to frame, give Foto-Mosaik-Edda a spin.
Note: This program is donationware. It is free to use, but the author accepts and encourages donations towards further development. The first eight times you start up, a five-second nag screen asks for a donation.