As was increasingly expected, AMD has officially updated its Phenom II processor line with two new, slightly faster CPUs. The unlocked 3.2 GHz Phenom II X4 955 Black Edition (about $245) supports overclocking and is the company's fastest yet, while the Phenom II X4 945 (about $225) is clock-locked at 3 GHz. AMD says the former flagship 3 GHz AM2+ Phenom II X4 940 BE (about $195) will "remain available as an overclockable Black Edition for a period of time."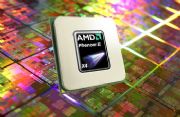 The new chips again feature a total cache (L2+L3) of 8MB, and though geared for use with Socket AM3/DDR3-memory motherboards, are also backwards-compatible with AM2+/DDR2-memory systems; so the good news is that you needn't upgrade your entire PC to use them.
(More: AMD's list of compatible motherboards).
Dragon Breathes Hotter
Though AMD has trailed Intel in CPU performance at the absolute top end of town, it's continued to deliver an affordable and largely competitive computing platform that includes CPU, motherboard, and GPU. The current incarnation of this unified offering is dubbed Dragon, and the new CPUs top off a full refresh since its introduction at CES in January. New ATI Radeon HD 4890 graphics boards hit earlier this month, Socket AM3 motherboards are rolling out, and AMD's long-awaited OverDrive 3.0 overclocking software is expected to make its appearance at today's launch, albeit in beta form.
OverDrive 3.0: An Overclocker's Dream
My tests of the pre-release OverDrive 3.0 software revealed a veritable tweaker's paradise. You can tweak processor, HyperTransport, and memory speed and voltages with unmatched granularity, or simply move a slider in novice mode. Phenom II chips may not be able to catch top-flight Core i7s in performance, but AMD knows that when it comes to enthusiasts sometimes it's not how fast you go, but how much fun you have getting there.
AMD touts the overclocking abilities of the Black Edition Phenom IIs and indeed, the CPU can be cranked well beyond its stock clock speed. In my personal hands-on I managed 3.6GHz using only the rather tame stock cooling solution provided by AMD. The company claims speeds up to 3.8GHz are safe, though it points out that the chip's warranty doesn't cover damage caused by overclocking. On the extreme side of things, hobbyists with early access to the X4 955 chip have apparently clocked it up to 6.5GHz. Intel's Core i7 965 Extreme Edition is also highly overclockable, but both it and the socket 1366 motherboards it runs on are far more expensive than AM3 products.
Stacking it Together
For our initial Phenom II X4 955 Black Edition benchmarks, we tested a stock-clocked AMD reference platform and a $2499 Maingear F131 mid-tower desktop that ships overclocked to 3.71GHz. AMD supplied a Gigabyte GA-MA790FXT-UD5P motherboard, 4GB of DDR3 memory, and a single 1GB ATI Radeon HD 4890 graphics board; we used our own pair of 7200-rpm Seagate Barracuda hard drives, striped in a RAID 0 array. The Maingear F131 features an Asus M4A79T Deluxe motherboard, 4GB of DDR3 memory, dual 1GB ATI Radeon HD 4890 graphic boards, and a single 7200-rpm Western Digital Caviar Black hard disk.
The AMD rig managed a WorldBench 6 score of 121, while Maingear's overclocked gamer box scored 130. Not bleeding edge, but marks that compare favorably with desktops that we've tested featuring what Intel offers in the X4 955 BE's $200-$300 price range.
For example, the 2.66GHz Core i7 920 cost $280 on Newegg at the time of writing. Two machines equipped with this chip — Gateway's $1250 FX6800-01e and CyberPower's $1499 Gamer Xtreme XT-K — returned WorldBench 6 scores of 115 and 129, respectively.
Acer's $2199 Aspire Predator and the $1599 Micro Express MicroFlex 450B both use the 2.8GHz Core 2 Quad Q9550 that cost $270 on Newegg at the time of writing. The Acer achieved 122 in WorldBench 6, the Micro Express scored 119.
Of course, all the various other components powering a system dramatically impact performance, so comparing CPUs in this manner is purely food for thought.
As for the 3.33GHz Core 2 Duo E8600? ($270 on Newegg) The 3.2GHz Phenom II X4 955 Black Edition costs around $245 and it can be overclocked.
Meanwhile, thanks to the Radeon HD 4890 graphics, gaming frame rates on our two test machines were more than respectable. The AMD reference platform achieved 96 frames per second at 1920 by 1200 for Enemy Territory Quake Wars (high detail, with anti-aliasing), and 97 fps for Unreal Tournament 3 at 1920 by 1200 and high detail. The CrossFire-rigged Maingear F131 went roughly 10fps better in each test.
It looks like the Dragon refresh should compete well against the similarly priced Intel setups, especially when overclocked. That said, it's not in the same league as top Core i7 960 setups, but it's also far cheaper. In a mid-level power system Dragon provides a lot of bang for your buck — especially if you like to twiddle clock and voltage settings.