No wonder everyone is pining for Steve Jobs to return to Apple. Other executives at the company don't seem to grasp future product trends.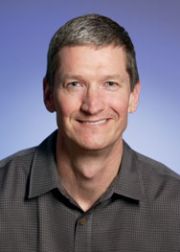 The company's chief operating officer on Wednesday lashed out at netbooks, calling them unusable due to their cramped keyboards, "junky" hardware and bad software.
"It's a stretch to call them a personal computer," said Tim Cook during Apple's fiscal second-quarter earnings conference call on Wednesday.
He suggests people buy an iPhone or iPod touch instead. Since he's the No. 2 guy at Apple, it suggests his comments reflect those of the entire management team.
And if that's what Apple thinks of netbooks, it's an odd way to view one of the hottest new product categories around.
Netbooks fill a gap the iPhone and iPod touch don't cover. They have bigger screens better for Web viewing, 8.9-inches to 12-inches, and keyboards for easy typing.
In fact, the global market for mini-laptops is expected to grow 43.2 percent per year on average, reaching 70.1 million units by 2013, according to market researcher Gartner.
So say what you want, Apple, but those numbers suggest a powerful product trend. And it's about to get even more interesting.
Forthcoming netbooks will be built using mobile phone chips and parts rather than traditional computing components, and that will make a big difference. They'll be among the most portable notebook-like devices ever.
On the software side, netbooks running Google's Android software will hit world markets over the next several months.
By being built with mobile phone components, such as chips with ARM processing cores, the new netbooks will offer two advantages over current ones: power efficiency and cost.
They will offer longer battery life because mobile phone components have always been built with battery life in mind, unlike PC components, which were born from a plugged-in point of view and have been modified over the past several years for better energy efficiency.
They will also be less expensive to make, preserving the profit margins many companies worry about with netbooks.
Apple doesn't want a piece of that action?
Google and Microsoft will be glad to hear that.
Google can ride the netbook trend and potentially gain a bigger share of the mobile software market with Android, while Android Market can take a bite out of the Apple's App Store.
The Internet search giant can also use netbooks to connect more people to its Web sites, such as YouTube or Google Docs, its online offering of word processing, presentation, form and spreadsheet programs.
The network will truly become the computer, as Sun Microsystems used to say. Or in more modern terms, the Cloud for consumers will have arrived.
Even Microsoft, which has not shown Apple's savvy for new products in recent years, has been working hard in netbooks. Windows 7 is supposed to be a great leap forward for netbooks, and the next version of Windows Mobile, which will also be called Windows 7, has been billed as perfect for netbooks.
Of course, yesterday's comments by the Apple executive may have been a head fake.
There have been rumors of an Apple netbook for a while, and companies in Taiwan say an Apple device with a 10-inch screen is on the way.
But what if Apple truly has no interest in the netbook market?
That would be too bad.
A mini-notebook with Apple's iPhone OS 3.0 software that linked to a spruced up MobileMe Web site with more online Apple software would probably be a hit.