A not so long time ago, on a console not so far away, the Lego Star Wars video game came out–and it was great. So were its inevitable sequels. When they followed that up with Lego Indiana Jones and Lego Batman, I groaned a little–but those were still decent. Kid-friendly interpretations of popular franchises make a whole lot of sense. And considering that generations of creative builders have grown up with Lego, I've been okay with the idea of milking a childhood staple.
Until now.
This week came the news of a Lego Rock Band game. Seriously? Do I really have a need to rock my blocks off? I build my musician cube by cube instead of picking out clothes and facial features? Whoopie. I get to play in fantasy Legotastic locations? Yay. Maybe my niece will be excited. Me? I'd rather see someone take those lovable Lego people in different directions.
[Note: You know that old saying about one Photoshopped image being worth a thousand words. Or something. Well, if you're reading the text-only version of this article (as in, someplace other than PCWorld.com), you're literally getting only half the story. Make sure you see the full deal with Lego-y doctored images.]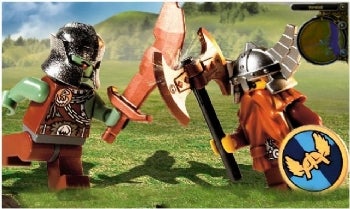 World of Legocraft The Pitch: I know, a whole Lego Universe MMO is in the works. And I, for one, am dying to see what that means for online world building–as in, creating a world and being able to share it with other players. That's not gonna stop my rampant speculating about what it might be like. Hey, if someone could copy EverQuest and perfect it with Warcraft characters, why not take WoW and perfect that with Lego figures? A couple million people can't be wrong.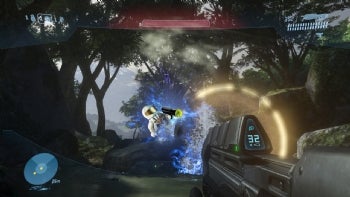 Halo 3: Lego The Pitch: While the Master Chief pushes back the Covenant forces, a new alien race joins the fight against the humans. Legos. The only problem: They aren't what you'd consider classically menacing. The Legosians are more likely to hug you than shoot you, and when they do fire, their little plastic pellets are more annoying than deadly. But they aren't recyclable. Yeah, that's it! They are evil!
Lego NFL 2011 The Pitch: Madden has retired; his seat in the commentator's box is empty. While the football legend's name stays on the game box, it's inevitable that EA will explore new directions with the Madden series. Just imagine it: The blitz is on, and Eli Manning is feeling the heat. Suddenly–boom!–a vicious hit, and his head pops off. And maybe an arm. Take my word on this one, it's only a matter of time. An added bonus: This game could finally end "The Madden Curse"–or, at least, create a more lovable version of it.
Grand Theft Lego: Brick City The Pitch: Hey, Rockstar, you know how everyone complains that your Grand Theft Auto games are too violent? Try making a game entirely in toy blocks, and I'm willing to bet that half those complaints would dry up overnight. (Who am I kidding?) I wish that I could take credit for the idea of a GTA game constructed entirely out of plastic playthings, but a long ways back a fan-made flick pitched the idea. Just watch the video. I'd play it.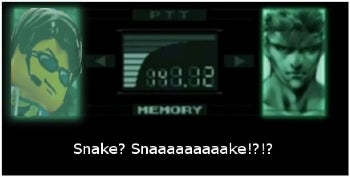 Lego Gear Solid: Bricks of the Patriots The Pitch: Easily the most cinematic, groundbreaking kid's game ever made. Massive, nuke-wielding, block-based mechs threaten civilization, while private military contractors attempt to take over the world through invasive nanotechnology. Speaking of technology, like the Metal Gear series it's based on, this Legoized version is full of potential. Imagine dynamic 7.1 audio, where broken bricks sound like they're falling all around you. And a huge, open battlefield that makes you feel like you're really there, confronting a bunch of cubic bad guys. Most important: The inane conversations with a nerdy handler via a goofy video communicator remain the same.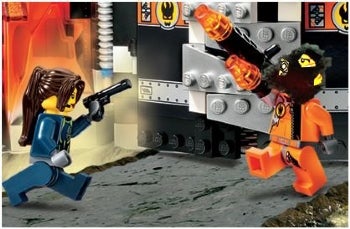 Lego Fallout The Pitch: The Fallout series is an inky-black comedy played out in post-apocalyptic America. Fallout 3 is a must-play game for several reasons: You can nuke entire towns, wipe out indigenous radioactive peoples in the most gruesome ways possible, and meet new mutants in a gigantic, open world. Just imagine, though, if someone could give that idea a child-friendly face-lift. It might diminish the level of violence when you see a block figure get shot apart as opposed to something a little more fleshy. Or maybe not.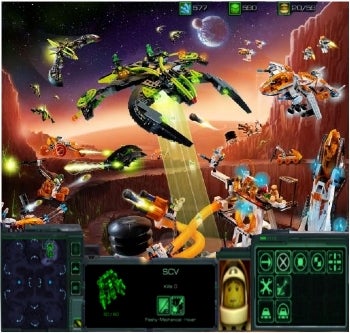 Lego StarCraft The Pitch: Lego's schemes already include a strategy game for the Nintendo DS, Lego Battles, set to hit the streets this summer. But why stop there? Take one of the most influential RTS games of all time and work your blocky magic on it, Blizzard. A StarCraft retake would hit PCs like a megaton bomb–and you haven't lived until you've seen a Zerg rush rendered as a cute, loveable block avalanche.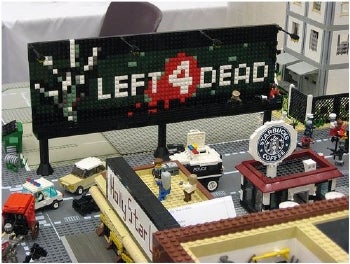 Resident Lego/Left 4 Lego The Pitch: How about a "family-friendly" (read: slightly less bloody) zombie game? The brick-based undead feed only on plastic. All those goofball takes on the undead that you see in Dawn of the Dead are a natural fit here. And if you can get it down to an "E for Everyone" rating, a whole new generation will get to appreciate how truly awesome Left 4 Dead is to play with friends. And, heck, maybe a reworking of Resident Evil 5's zombies might not seem as controversial if it were done in cubist form.
But why doctor my own screenshot when plenty of other people have been on to something here for a while now? You can find videos on YouTube of zombified "Brick Flicks," but you really should check out the results of a zombie apocalypse–some truly inspired Lego artwork lurks at Brothers-Brick.com. And while I'm making recommendations, check out Keith Goldman's tribute to The Zombie Survival Guide.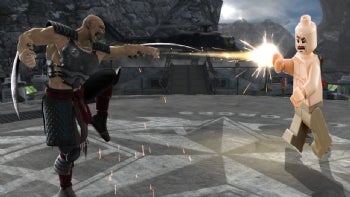 Mortal Kombat vs. Lego Universe The Pitch: One word–blocktality.
What kind of Lego games would you like to see?
Need even more nerdity? Follow Casual Friday columnist and PC World Senior Writer Darren Gladstone on Twitter (gizmogladstone) for game-swag giveaways, odd links, and time-wasting tips.