Lord of the Rings Online just turned two, and creator Turbine, Inc. is celebrating with a special limited-time offer to coax truant players, as well as lure brand new ones.
Think $15 a month's too much for an MMORPG? How's $10 strike you instead? If you sign up between April 24th and June 30th, Turbine will let you pick any multi-month plan (90 days or longer) and lock that $10 monthly fee in for as long as you stick around. Meaning indefinitely? If you so choose, that's right. No limits.
There's more: During the anniversary bash, Turbine's set the game's monsters to drop rare items after battles. You can exchange these for special gift boxes that reward you with in-game items to give your HumanElfHobbitDwarf a little extra oomph. (Seems a little thrice-removed to me with the whole item-for-a-gift-for-an-item formula, but okay, I'm intrigued.)
For returning players, Turbine's letting you play an old character for free between April 24th and April 30th, then sweetening the pot with a 25% experience point bonus (including "rest" XP) for the free period's duration.
Stick with Lord of the Rings Online through the anniversary promotion's denouement, and on June 30th, you'll get a Writ of Passage that knocks 20% off stable masters (travel by horse) throughout Middle-earth.
$10 a month. $120 a year. The cost of two comparably limited-value console games. Not bad, and not to throw in with the whole MMOs-are-killing-PC-game-diversity crowd, but in this climate, pretty compelling.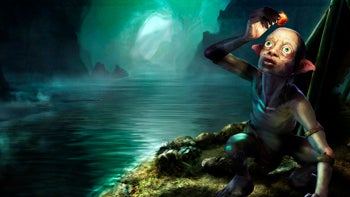 "It's been another incredible year for LOTRO and Turbine," said Lord of the Rings Online Executive Producer Jeffrey Steefel. "Being named both 2008 MMO of the Year and Best Expansion of 2008, coupled with the overwhelmingly positive response to the game from fans, has firmly cemented LOTRO as one of the world's premier online entertainment experiences. Our anniversary is a chance for us to celebrate with our past and present players and enjoy everything that is special about Middle-earth and thank them for their wonderful support with some special subscription options."
Sounds good to me. I started in with LOTRO's Shadows of Angmar (the original) late last year, then got sidetracked…as I'm wont to do when a game's hypothetical limits approach thousands of play hours. I recently dove back in with my eyes on the new Moria expansion that launched last November. I'm still a lowly level 17 Rune-Keeper (one of the newer classes) but while I'm still punching around in Eriador west of the Shire and Bree-land, I've every intention of eventually laying eyes on Eregion and the illustrious Hollin Gate before plunging suicidally into the gloomy deep.
Time to grab your packs, ponies, and pouches of pipe-weed? I can't think of a better moment to give LOTRO a go. And yes, that's me shamelessly pimping for Turbine, because after Ultima Online, Everquest, Final Fantasy XI, World of Warcraft, and Warhammer Online, I'm convinced they've got the MMO model to beat.
For more gaming news and opinion, park your tweet-readers at twitter.com/game_on.