On a Thursday night this February, the Paradise Lounge in San Francisco was transformed from a swank nightclub into a haven for those whose typical social lubricant is abbreviated URLs, not cocktails: Twitter users. Attendees said there were lots of @nametags (echoing the Twitter convention of referring to people with the @ followed by their user name), loud music, and a surprisingly low amount of actual Twittering.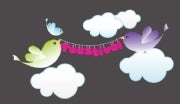 Twestivalsf, as the dimly lit party was dubbed by its community organizers, represented only one of the 202 Twestival events that took place in cities around the world on that same evening. Besides raising donations for an international aid group called charity: water, each gathering aimed to celebrate the power of social media to bring people together. All were organized by Twitter users, not the company itself. The idea, according to the Twestival Web site: meet the faces behind the avatars, and do it on a "revolutionary" scale.
A rising wave of community gatherings sparked by Web 2.0, Twestival included, have been taking the tech world by storm over the past 12 months. Often labeled "camps"–in the tradition of Foo Camp and BarCamp, both early proponents of the collaborative meetup model–these events celebrate new technology and a meeting of minds. DevCamp, PHPCamp, SocialMediaCamp: It seems new camps are springing up each week. Few have any corporate affiliation. In anarchistic, wiki-like fashion, many aim to be "unconferences," face-to-face gatherings unshackled by both organization and the long-distance divide of the Internet.
Why the Meat Space?
The proliferation of these camps–few of which, by the way, involve any actual camping–raises the question: If the Web is such a great way of networking, why do people feel the need to meet in "meat space"? One theory holds that the spread of social networks has increased the number of people we connect with, while at the same time decreasing the meaningfulness of each connection. As we stop calling each other and start Twitter messaging, maybe we crave real-world contact. On the other hand, perhaps the interwoven network of users that is Web 2.0 has inspired us to collaborate in ways we wouldn't have dreamed of if Web sites hadn't already connected us.
The ethos of the camp experience goes back to 1986 and the invention of Burning Man. An annual gathering of artists, hippies, and technophiles, Burning Man is dedicated to an ad-hoc lifestyle that has inspired organizers of the recent wave of camps. In the last two years, the population of Black Rock City, the town that "burners" construct each August in the Nevada desert, has exploded to nearly 50,000.
Jenna Chalmers, creative director for the social gaming company Zynga and a five-time burner, says the increasing appeal of Burning Man for techies is being able to connect without needing to be plugged in. Wi-Fi access is limited, and cell phone reception nonexistent. "Most people I know, even if they're on Twitter and Facebook a lot in their everyday existences, they don't do that when they go to Burning Man," she says. "It's a recess from that technology and investing instead in something more tangible."
Foo the Man!
But most of the recent camps, technology-related and otherwise, can be traced to one common ancestor: Foo Camp. Started in 2003 and run by tech publishing leader O'Reilly Media, Foo Camp (foo stands for "friends of O'Reilly") welcomes the bright new minds of media–by invite only–to stew in a multiday hodgepodge of creativity and play. Authors, game makers, and overnight Web moguls–to name a few categories of participants–come together to collaborate on impromptu presentations and projects, testing out new perspectives and thinking up the next big things.
Kati London, VP and senior producer of area/code, a cutting-edge New York games company that specializes in advertising-related projects, describes FooCamp as a land of innovators let loose. "People are overloaded and divided, and face time is more important than ever," and that drives the impetus to take collaboration offline, London says. "It's empowering to have other people recognize in you the ability to create something real."
Another common inspiration is BarCamps, free-form conferences organized by the participants. The first was held in Palo Alto, California in 2005. Early BarCamps focused on Web applications and open-source technologies, but the format has since been adapted to address many different topics.
Of course, not every camp has goals as ambitious as Burning Man or Foo Camp. WordCamp, for example, is a series of day-long gatherings with talks and demonstrations for users of the blogging platform WordPress.
The Go Game, a San Francisco-based company that runs team-building exercises, has found a way to profit from the appeal of real-world gatherings. Corporate groups, friends, and even bachelorette parties use the Go Game's games–which often involve cell-phone technology, unusual missions, and a lot of collaboration–to grow closer through play.
It works because it gets people out from behind their desks, says Go Game cofounder Finnegan Kelly. Even Internet users who spend their days on Facebook are still sitting in isolation. "What people respond to," says Kelly, is "going out, meeting new people face-to-face, enjoying the magic that's around you when you can shut down the computer."
Kelly recently ran a game at the Austin conference South by Southwest, a festival for music and new media lovers. The 3000 attendees were assigned goofy objectives directed at "making more meaningful interactions than just exchanging business cards," says Kelly. "Let's say you have to create a weird handshake with someone you just met, so whenever you see that dude again you can do your custom handshake. That's going to leave you with a much more lasting impression. You'll be like, "I remember that guy! He's the one I did the handshake with!" Still, says Kelly, some South by Southwest attendees were too caught up in their Web 2.0 routines to bother with funny handshakes. "A lot of people's energy was just going into Twitter."
Cupcakes and Bacon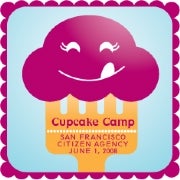 At least some people are taking a more lighthearted approach to the camp model, which has recently been spilling over from technology to food. Cupcake Camp, a convergence of mostly amateur bakers, was first held in June 2008. Founder Ariel Waldman says she modeled her event, during which attendees presented their sugary creations and tasted those of others, off BarCamp. "The idea is that everyone is a participant and can own the event for themselves," Waldman says.
Cupcake Camp still draws a tech crowd. For her that makes a lot of sense. "Tech people get really passionate about certain things, and that carries over into other parts of their lives," she says, including their confections.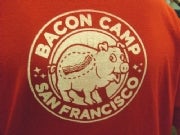 And their breakfast foods, apparently. From Cupcake Camp an even more recent event has spun off: BaconCamp. Last month, scores of Bay Area bacon lovers showed off their frying methods, even their bacon sculptures, in a similar show of organized unorganization.
Karen Nguyen, who headed the event, has her own explanation for the camp craze: the Internet facilitates communication, whether or not it's tech-related. Still, "the relationships you make online can only go so far," says Nguyen. Soon enough denizens of Web 2.0 want to take their new social skills out into the light of day–and do some bonding, whether it's over the future of technology or a crispy strip of bacon.