Skytone Transmission Technologies, based in Guangzhou, China, says it is just three months away from producing the world's first Android-powered netbook, the Alpha 680. The new device is powered by the ARM11 533 Mhz processor, with a paltry 128MB RAM expandable to 256MB, 1 or 4GB Solid State Drive, 7-inch LCD monitor with 800-by-480 resolution, two USB ports, an SD card slot, Wi-Fi, optional 3G antenna, an unspecified keyboard size, and a two-cell battery with approximately two to four hours of battery life.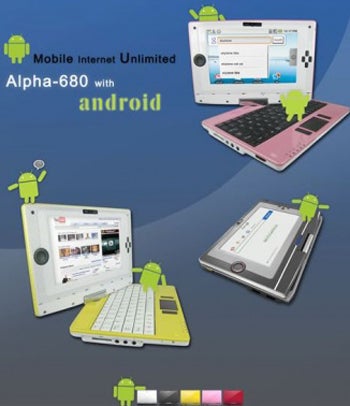 Skytone is currently having trouble getting about 20 percent of Android apps to function on the netbook because of compatibility issues, but Skytone is working to solve those problems and expects to have a market-ready product by the summer, according to Computerworld. The news comes after Computerworld's Seth Weintraub last week came across the Alpha 680 on the Skytone Website. The Alpha 680 is notable not only for its Android OS but also the ARM11 processor, which could put the Alpha 680 in the sub-$200 price range. ARM may be a relatively unknown name to you, but ARM chips are popular among mobile device manufacturers because ARM chips use less energy and are cheaper, while still delivering adequate processing power. You can find ARM chips in many well-known mobile devices, including iPhones and iPods. One Laptop Per Child's upcoming XO-2 may also use ARM chips to improve power efficiency over the x86 processor found in OLPC's XO laptop designed for children in the developing world.
The Android-powered Alpha 680 first made a public appearance earlier this month at an electronics trade show in Hong Kong before Weintraub discovered it online. However, before you get too excited, it's possible the Alpha 680 may never make an appearance in U.S. stores. Skytone doesn't actually manufacture anything, but merely licenses its product designs to manufacturers. HP, Asus and others are already rumored to be coming out with their own Android netbooks in the near future and those will undoubtedly have more power than Skytone's Alpha 680. However, co-founder Nixon Wu says that suits Skytone just fine. Wu told Computerworld that Skytone's goal, similar to that of OLPC's, is to "bring low-cost computing to the "80 percent of the world that can't afford it today" and that his product should not be compared to those of manufacturers that cater to the Western market. Skytone is focused on bringing computing to less affluent parts of the world that still need access to the Web, so having enough power for tasks like "watching TV over the Internet is not the most urgent thing." Without enough power and raging competition from Windows netbooks, the Alpha 680 would most likely find itself outmatched anyway. The real issue surrounding the Alpha 680 for American consumers is the breaking of the Android-in-netbooks barrier. With the imminent release of the first Android netbook and major manufacturers expected to produce their own Android-powered models, the question is: How will this affect a market where Windows XP is currently the netbook OS king? There has been speculation that Google's Linux-based Android could be a real threat to Windows XP and the upcoming Windows 7 on netbooks. However, even for Google, unseating Windows from the netbook market will be no easy feat. As was pointed out in this week's PC World podcast, right now several Linux flavors can be found on netbooks, but those netbooks are usually only about $50 cheaper than comparable Windows machines and are typically harder to use than the more familiar Microsoft interface. There are some exceptions to that, such as Ubuntu, but Google's Android OS will have to overcome high expectations from everyday users if it wants to rival Windows.