Everything Search Engine allows for quick and easy name and location searches for, well, everything. This tiny, free download quickly creates an index database of all your files (but not their contents) and displays them in a simple, no-nonsense search window.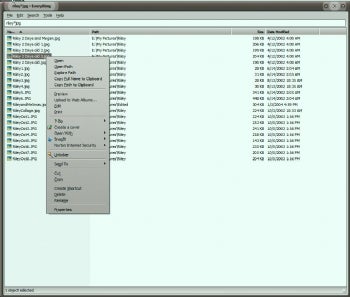 Search results display as you type, and techie types can construct advanced searches using wildcards, Boolean operators, and regular expressions. Non-experts can still get plenty of use out of basic searches such as "family*jpg"–which will quickly display any file that starts with "family," ends with "jpg," and has anything in between (represented by the "*" wildcard).
You can double-click a search result to take the default action, such as opening a Word doc or playing a movie file, or right-click to open its folder, rename it, or perform other actions. You can also drag and drop files listed in search results to other locations, as you would from an Explorer window.
By default, Everything launches with system startup and runs in the system tray. Advanced users can also tell it to act as an HTTP or ETP (Everything Transfer Protocol)/FTP server, which allows for connecting to an Everything program running on another computer using Everything (for an ETP/FTP server) or a Web browser.
You can then both search for and download files via the remote Everything program, which can be pretty darned convenient–and also a big security risk if you don't know what you're doing. Don't enable either server feature unless you're sure your computer is protected by a separate firewall (not just one running on the same PC) that will prevent people on the Internet from potentially getting to your files through Everything, and make sure you tell Everything to use a strong password for either server type.
Everything uses only a small amount of memory–15MB on my test Windows XP computer, which is stuffed full of various files. If you want to try a fast, free option for finding your files, give Everything a shot. If you also want to be able to search within a file, such as particular text within a Word doc, you might try Google Desktop.