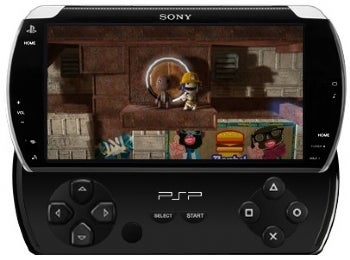 So it's not called the Sony PSP 2, and that's probably the biggest reveal in a rumor started by 1UP earlier today about Sony's next portable powerhouse. The PSP Go! — ostensibly named such based on 1UP's assumption that Sony craves consistency with its Go! brand add-ons — would be a nominally cosmetic redesign of its existing handheld. You'll see the rumored slide-screen (1UP's source isn't confirming touchable, though I'd wager it's a shoe-in) and we'll also be getting that rumored absent UMD drive in favor of 100 percent digital downloads.
What we won't see, reportedly, is the second analog stick.
That's last's kind of depressing, if true. The only reason I'd bother with a new PSP at this point is a second analog nub, a feature that'd finally make first- and third-person handheld games worth playing. Again, if it's true, and all this might turn out to be more wild-goosing, eschewing the second analog stick only hobbles the PSP as a serious console alternative (if you're a comparably serious gamer, anyway).
But maybe that's Sony's point. They don't want the enthusiast demographic playing the PSP too much. Why bother with an exorbitantly priced PlayStation 3 if you can get some of the same games in a hep pocket-sized version with controls that haven't been emasculated?
In any event, 1UP says Sony's planning to launch over 100 PSP titles, some old, some new, for download at launch. Oh, and the device would ship in two flavors: One with 8GB internal storage, another doubling that to 16GB. Will it retain the PSP's expandable memory slot? No one's saying, but Sony would be foolish not to.
What about all your existing UMD games? Kotaku's fingering in-store kiosks to let you port the data over. Sounds a little wonky to me. You want to be the retailer that has to deal with millions of irritable gamers standing in line with stacks of mini-discs to convert?
Customer: "Hey, how come my Syphon Filter's not copying?"
Salesperson: "Here, let me see it."
Sales guy tilting UMD under florescent light, squinting.
Saleperson: "Hmm, looks like there's scratch here. See?"
Customer: "But… It works fine in my current system? Here, let me show you…"
Uh-huh. You couldn't pay me a million bucks to manage that potential cluster.
What do you think of the name? Predictably trendy, but it could be worse. Just be thankful we're not hearing stuff like PSP Me! or PSP You! or PSP Verve! And it's not like the word's never been used before. There's the iGo, a kind of universal power adapter. You've got the SafeGuard Go, a car safety seat. Of course there's the Yugo, less commonly known as the Zastava Koral. And who could forget plain old Go, a classic Chinese strategy board game some 2,500 years old.
We speculated earlier that the system might have a camera. Actually 1UP did, too. I'm not so sure though. Sony has to highlight a killer app for the camera. Skype? Maybe. But there's something to be said — not that I'm personally an enthusiast — for the add-on market. Sony wants you to keep paying them money, and for the moment, there's still tons to go around in the peripheral/expansion biz.
1UP's sources peg the PSP Go! for announcement at E3 in June, and an actual launch in Japan and the U.S. this fall, a month or two apart.
Time for a poll.
For more gaming news and opinion, park your tweet-readers at twitter.com/game_on.