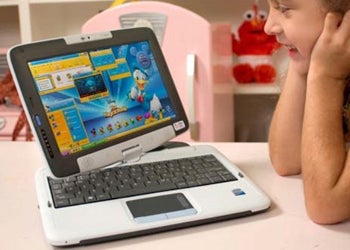 If you don't want you child messing around with your precious new computer, then you might want to look into this: PeeWee PC introduced a splash-resistant tablet PC that comes with all the adequate perks to keep your kid entertained and browse the Internet safely.
Coming in at $600, the PeeWee Pivot Tablet Laptop features a 10-inch touch screen and is powered by a 1.6-GHz Atom processor and 1GB of RAM memory, which can be upgraded to 2GB. With a 60GB hard drive, the PeeWee PC runs Windows XP, which might leave your child in a tantrum if they get stuck with some 'blue screens of death'.
The PeeWee PC is not light on additional specs either. The convertible tablet laptop has two USB 2.0 ports, a VGA port, an SD/MMC media card reader, Wi-Fi (802.11b/g) and a 1.3-megapixel webcam to fulfill you child's needs of doing anything more than drawing on a very expensive version of their paper notebook.
On the software side, PeeWee PC ships with games designed for kids ranging from pre-K to upper elementary students and a Walt Disney theme for Windows XP. In addition, it includes a specially designed security suite that allows parents to control when and how kids use the PeeWee PC. Additionally, this proprietary suite can let parents block certain Web sites, view browsing histories, and remotely control the system.
In terms of design, the PeeWee PC is quite versatile, as it can take the shape of a regular laptop or it can convert to a tablet (takes longer for your kid to get bored with it). To handle any strain or spillage, the laptop is ruggedized and the keyboard is water-resistant. PeeWee PC also has a handle at the top for easier carrying and holding and comes with a 6-cell battery pack.
PeeWee PC is available only from the manufacturer's Web site at the moment, but as an extra perk, when you spill $600 for it, your kid gets his age, name and interest custom built laptop (via the software on board).
Is it worth it? You can get a similar specifications laptop on the market right now even cheaper that PeeWee PC's retail price, but the additional cost could be covered by the ten age-targeted software titles that come with it and the durability this laptop was built in mind with (due to children's usage). I just wish I had one of these when I was a child.