Wireless networks today are faster, more secure, and more reliable than their predecessors. But to some extent Wi-Fi is a victim of its own success: Search for a Wi-Fi hotspot these days, and you may find a dozen networks competing for the same 2.4GHz bandwidth-so nobody gets a good signal.
At the same time, changes in the way we use networks demand better performance than ever. Exacting applications such as network backup, high-definition video streaming, BitTorrent downloading, and VoIP can choke even the fastest Wi-Fi: At best, a draft-2.0 802.11n router delivers a little over 100 megabits per second in real-world throughput. If multiple Wi-Fi clients claim a share, performance can rapidly–and, in the case of streaming video, visibly–deteriorate.
For these reasons, our look at networking products has two components. The convenience and ubiquity of 2.4GHz Wi-Fi make it the technology of choice for the router at the heart of your network, so we evaluated six workhorse routers that support draft-2 802.11n Wi-Fi and gigabit ethernet:
In addition, we looked at six powerline networking kits:
Each of these kits lets you use your home's existing electrical circuits to hardwire devices requiring more reliable performance. These kits all performed at least as well as draft 802.11n Wi-Fi on our throughput tests, and each delivered rock-solid high-definition video streaming from a Sling Media Slingbox Pro. Using Wi-Fi gear in the same environment, we experienced frequent deterioration in video quality.
We believe that many people would benefit from a hybrid network incorporating both technologies; fortunately, this isn't difficult to set up (see "Adding Powerline to Your Network Is Easy").
With regard to product quality, we're happy to report that all of the draft-2 802.11n Wi-Fi routers we tested rated at least Good overall, and several earned marks of Very Good. This was not the case in our previous round of wireless networking tests, an indication that the category is maturing. The Belkin N+ and the D-Link DIR-655 scored highest, thanks to very good performance and setup tools, along with valuable features such as support for USB drive sharing and a security-conscious guest access mode.
Routers That Do More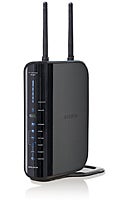 All of the Wi-Fi routers we reviewed have gigabit ethernet, an essential feature for network backup (you can use it to connect to a network-assisted storage (NAS) device next to the router and get much faster performance than you would with either a Wi-Fi or a powerline connection). Other key features include USB ports (present in the Belkin, D-Link and SMC routers) for linking standard hard drives and/or printers to the network, guest Wi-Fi access mode (in the Belkin and D-Link models), and strong parental control features (a paid option in the Linksys router).
One surprising finding from our performance tests is that some routers with two transmitting and three receiving (2×3) antenna arrays outperformed 3×3 configurations, even at long range. So a 3×3 router is not necessarily better than a 2×3 one.
On the other hand, a laptop with a 3×3 Intel Ultimate N WiFi Link 5300 client card consistently outperformed one with the 2×3 Intel WiFi Link 5100 client adapter. The improvement was dramatic, too, ranging from 28 to 62 percent overall; so when buying a new notebook, paying an extra $40 or so for the higher-end client may well be worthwhile if you use Wi-Fi a lot.
A few vendors offer simultaneous dual-band 802.11n routers–devices that support both 2.4GHz and 5GHz networks at the same time (the Linksys model reviewed in this roundup can support either band, but not concurrently). 5GHz networks (which support legacy 802.11a clients) are more robust than 2.4GHz networks because their many nonoverlapping channels (a dozen 22-MHz channels versus only three in the 2.4GHz band) are far less prone to interference. Even so, we chose not to review these routers for several reasons: They are still rather uncommon; they are very expensive; and powerline generally offers better performance for the streaming video applications for which a 5GHz network is frequently used.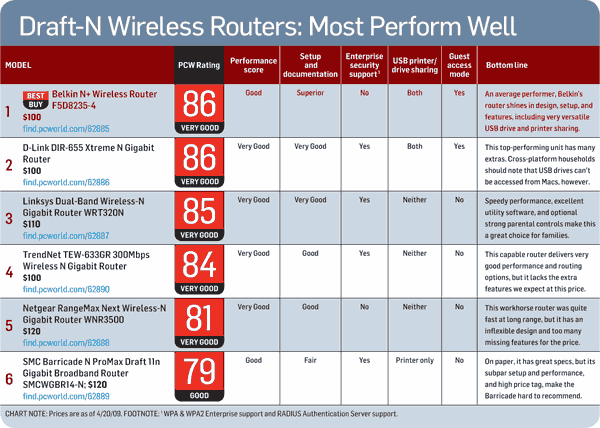 For a detailed comparison of the features offered by each Wi-Fi router we reviewed, see our chart, "Draft-N Wireless Routers: Most Perform Very Well."
For complete hands-on reviews of each Wi-Fi router in the roundup, click the links below:
More Power to You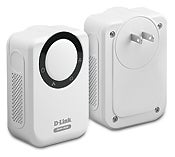 Among powerline kits, the D-Link DHP-303 is our top pick. Its throughput was more than 30 percent higher than the competition's, and it carries a lower price tag. (Significantly, the D-Link device is also the only product in this group that uses powerline chips from a Spanish firm called DS2; as a result, it isn't compatible with the others, which are based on the HomePlug AV standard.) That said, we obtained rock-solid HD video streaming with all six powerline kits we tested.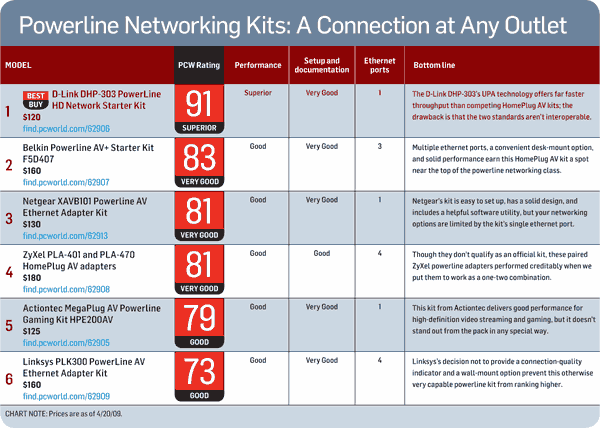 For a chart comparing specific features of the six powerline networking kits we included in our roundup, see "Powerline Networking Kits: A Connection at Any Outlet." For hands-on reviews of those six kits, click the following links:
A hybrid Wi-Fi/powerline network solves many problems: By using powerline wiring to connect bandwidth-intensive devices that you rarely move around (such as network-attached storage drives, printers, game consoles, home entertainment center components), you improve their performance and that of mobile Wi-Fi gear (such as a laptop or a smartphone), by reducing the overall network demand on the wireless bandwidth.
Adding Powerline Adapters to Your Home Network Is Easy
Wi-Fi is unquestionably the home networking technology of choice for laptops and other portable devices, but for applications that require high bandwidth and a reliable data stream, such as streaming video, powerline networking trumps wireless. Fortunately, the two technologies complement each other nicely. If you can plug in a power cord and an ethernet cable, you can set up a powerline network.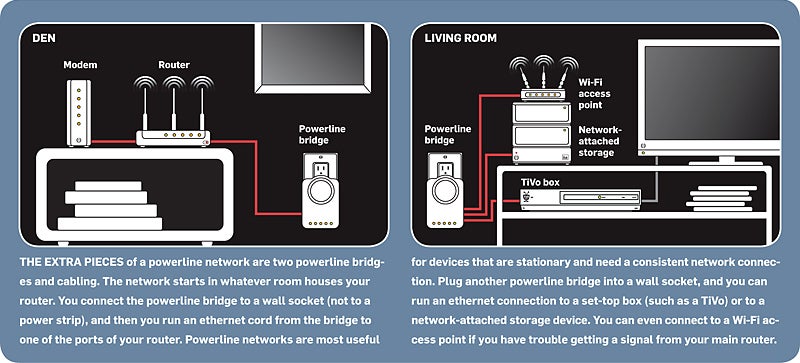 Start by plugging a powerline adapter into a wall socket. Don't use filtered power strips or surge protectors, though, because they will interfere with the network connection. Next, run at ethernet cable from the powerline adapter to a free LAN port on your Wi-Fi router.
Now plug a second powerline adapter (or a powerline switch containing multiple ethernet ports) into a wall socket in any room where you want to be able to gain access to the powerline network. After a few seconds, the two powerline devices will recognize each other and become connected.
After that, you can connect any device that has an ethernet port to your network. In the living room, for example, you can hook up your game console, TiVo box, DVR, Blu-ray player, Windows Media Extender, or network media player. You can even hook up a Wi-Fi access point to bring coverage to a dead area.
To prevent neighbors who are operating on the same electrical circuit as you from hopping onto your network, you can change the default encryption passphrase on all of the kits simply by pressing buttons on each adapter.
You can even move the adapters from one outlet to another, and they will keep their settings. Power outages shouldn't wreak longterm havoc on your network: It should pop right up again when the power comes back on.
The only installation issue you're likely to have is poor performance due to bad circuitry. In my 100-year-old house, the older outlets had severe interference problems, but on my newer circuits the adapters worked perfectly. If you're unsure of your circuitry, buy from a vendor that has a good return policy.
When you use a multiport adapter or more than one remote adapter, all of the devices they connect will share the available 200-mbps bandwidth; your performance will slow when multiple devices run on the network simultaneously.
When shopping for powerline gear, check model numbers carefully. Many earlier and slower (14- and 85-mbps) kits are still being sold, and they are not interoperable with the current crop (though an older powerline network can coexist with a newer one).
Also take note of the powerline technology that the powerline kit uses. Most of the kits we tested were designed for the HomePlug AV standard and worked fine together in my tests. But utilities from one vendor may not work on another vendor's gear, and firmware updates sometimes muddy the waters further. The exception to the HomePlug AV rule was D-Link's powerline kit, which incorporates competing (and incompatible) Universal Powerline Association-compliant technology from a Spanish company called DS2. (An IEEE standard combining HomePlug and a third powerline technology, Panasonic's HD-PLC, is still in the works.)
Your best bet for avoiding standards issues is to stick with one vendor's products. Our top picks among powerline options are the D-Link DHP-303 and the Belkin Powerline AV+ Starter Kit F5D4075. The D-Link offers superior performance and informative LEDs, while the Belkin has interchangeable wall and desk mounts, plus three ethernet ports in the remote adapter.