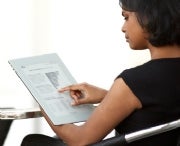 Yesterday we found out a bigger screen Kindle is coming on Wednesday; today, pictures and details regarding the new Kindle DX have surfaced. Amazon's new e-book reader will have a 9.7-inch display and sports new features such as a built-in PDF reader.
Dubbed the DX, the Kindle 2 successor will also let you make notes and highlights on your documents while the 9.7-inch screen (3.7-inch larger than on the Kindle 2) will be optimal for viewing newspapers, magazines and textbooks in a format similar to their paper predecessors.
While we wait for Wednesday to drag on, when the jumbo Kindle is expected to launch, some universities are also gearing up for the DX. Reports say that Case Western Reserve University in Cleveland, together with Pace, Princeton, Reed, Darden School at the University of Virginia, and Arizona State University will equip their students with a brand-new DX to carry their textbooks.
This autumn, these university students will get their chemistry and computer science texbooks on a Kindle DX while the less lucky ones will still have to go to the library to get their books, says the report. Amazon's move towards the textbook industry was expected though, as reports from as early as last year suggested the company would jump into the $5.5 billion market.
Newspapers and magazines are also set to push the Amazon Kindle DX, with the larger screen being more suitable for reading print media content. Reports say that Amazon invited several publishers to join the DX fray, including the New York Times and Time Warner's magazine division. On the DX, subscriptions to these publications is said to be cheaper than on the Kindle 2, with the NYT leading with a monthly $9.95 offer ($4 less than it would cost on the Kindle 2).
Amazon is still keeping mum on the latest developments, so all we can do is wait. Roll on Wednesday!
Follow Daniel on Twitter @danielionescu