As we discussed yesterday, Presto is a compact, streamlined version of the Linux operating system that's ideal for old PCs, low-powered netbooks, and slow-booting laptops.
On a pokey desktop replacement, for instance, Presto loads in just under 20 seconds. I also installed it on an Acer Aspire One netbook. Boot time: 13 seconds. Shutdown time: 2 seconds. Beat that, Windows 7.
Want to try it yourself? I know Linux may seem strange and scary, but trust me: Presto is as easy to install (and uninstall) as any program, and it doesn't require you to partition your hard drive or burn a CD. Here's how to get started:
1. Start Windows (Presto works in XP and Vista), download Presto (it's a big file, so it may take awhile), then double-click it to start the installation.
2. When it's done, reboot your PC.
3. Watch for a new boot-screen menu that gives you a choice of operating systems to run. Choose Xandros Presto. (If you don't make a choice, Windows will start after 30 seconds.)
4. Presto may load a bit slowly the first time out (by which I mean 30-45 seconds instead of 15-20), as it has to perform a few one-time configurations, but it should be much faster on subsequent boots.
5. The OS should automatically detect your Wi-Fi adapter and any nearby networks. To connect to one, click the small network icon near the bottom of the toolbar (you can mouse over any icon for a tooltip description), then choose the network you want.
6. Now you're all set to get online. From top to middle, the Presto toolbar apps are as follows: Firefox, Pidgin (for cross-platform instant messaging), Skype, File Manager, and Application Store (where you can download hundreds of additional programs and access two other preinstalled apps: OpenOffice and RealPlayer).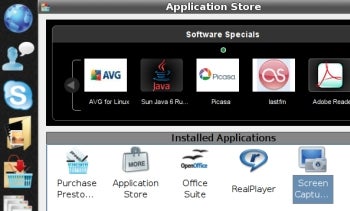 7. As in Windows, you can cycle between open applications by pressing Alt-Tab.
8. To shut down or restart your PC, click that big green power button.
So, what do you think? Is Presto worth the $19.95 price of admission? Or are you better off with Wubi, which installs the full Ubuntu version of Linux much the same way as Presto but costs nothing? (Kudos to reader Evildave for mentioning that option.)
Personally, I think there's much to be said for Presto's ultra-compact, fast-booting design and user-friendly interface, though the cheapskate in me would probably opt for Wubi. In either case, it's nice to see Linux becoming so easy to deploy. Few users have the time, skills, or inclination to burn CDs, partition hard drives, and all that.