Developers got an unexpected surprise yesterday after Apple released a new beta of the iPhone OS 3.0 and a second version of iTunes 8.2. This release comes just eight days after Apple released 3.0 beta 4 and the first public version of iTunes 8.2. Apple's typical release schedule for new 3.0 beta versions has been about two weeks. If beta 5's availability signals a faster release schedule, then a near-final version of iPhone OS 3.0 may be just around the corner. That would make sense, since it's barely over a month until Apple's annual Worldwide Developers Conference in San Francisco where 3.0 is expected to make its debut.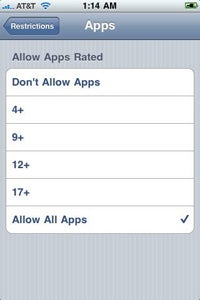 Nothing has been found in yesterday's release as dramatic as last week's hints that Blu-ray functionality may be coming to iTunes 8.2. However, there are some notable additions in this latest version of iPhone OS 3.0. The biggest change is that iPhone apps may be getting restriction settings with parental controls built into the iPhone. Apple has been criticized for its heavy censorship restrictions having rejected iPhone apps like Nine Inch Nails' nin:access or South Park's iPhone App for containing material that some users may have found objectionable. Parental controls for iPhone apps are a great way to allow users get the content they want while keeping explicit material away from minors.
Apple has also patched a hole that allowed enterprising hackers to get a preview of iPhone's upcoming multimedia messaging service; Apple hasn't turned on the iPhone's MMS functionality yet. AT&T users with beta 5 will now find that MMS buttons are hidden. Another hack that allowed you to enable tethering on the iPhone has also been shut down. There are also reports that YouTube streams over 3G now have higher resolution than before. Somewhere between beta 4 and 5, 3.0 also picked up a minor bug without a current fix; Apple has warned that a small number of AT&T customers may lose their 3G data service after they've installed beta 5.
This year's WWDC runs from June 8-12 at San Francisco's Moscone Center West. For the second time in its history WWDC has sold out; the first time was last year when the iPhone 3G debuted. Apple's official line is that WWDC 09 will be about Snow Leopard, the latest version of OSX, and iPhone OS 3.0. Regardless, some are speculating that fancy new Apple hardware could debut in June including a new iPhone and Apple's oft-rumored tablet device.
Connect with Ian Paul on Twitter (@ianpaul).