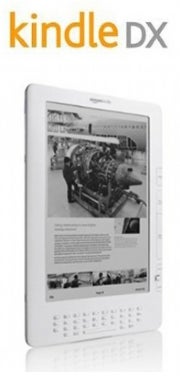 It's easy to dismiss the Amazon Kindle DX introduced this week as being nothing more than a bigger version of the existing Kindle 2, with a handful of extra features. But make no mistake: Kindle DX represents far more than merely more of the same. Kindle DX is a game changer for e-book readers, and one that has a chance to transform how we consume content.
(See Related: A Guided Tour: Hands On With the Kindle DX)
Here are my not-so-obvious ways that the Kindle DX can transform reading.
Large Print Books
For those who are visually impaired, large print books are a necessary gateway to reading. However, not every title is available in large print. And some titles rival textbooks in their weight and thickness; they can be impractical to hold and read. While you can change a book's font size on the smaller Kindle 2, the experience isn't very satisfying. The Kindle 2 screen just doesn't hold enough text to read before it's time to press Next Page again. A large-format e-book reader like the DX is a natural fit to replace the need for large print books. The Kindle DX is especially well-suited to this given the ways in which one can customize how much text is on a line as well as how large the text appears.
Children's Books
E-book readers as an educational tool? The potential is there. The Kindle DX's 9.7-inch screen offers plenty of real-estate for both illustrations and text. Granted, the images on-screen might hold greater appeal for young ones if they were color, but even without color, there's an opportunity here to hook in youngsters. With a title that's designed to take advantage of the Kindle DX's on-board dictionary and text-to-voice capabilities, Kindle DX could be a way for kids to jump-start and hone their reading skills.
English as a Second Language (ESL) Learning
Kids aren't the only ones who might use Kindle as a tool. Those learning English as a second language, be it in an ESL program or at home, could benefit from the Kindle DX's dictionary and text-to-voice reading.
Manuals
No, I'm not going to pay $489 for a device just to store all of my gadgets' included manuals in one place. But I'm sure I'm not alone in the where-the-bleep-is-that-manual syndrome. I have tons of electronics in my home, and the respective documentation gets scattered in file drawers (where I can rarely find what I want when I want it). Then there are PDF-based manuals for various electronics and software programs. These get lost when stored on various hard drives or get left on installation disks and can never be found again (notice a pattern here?). With its large-format size, built-in PDF reader, and copious on-board storage, Kindle DX could be the perfect place to store all of those manuals in one place. Who knows — it may even make *reading* the manual more fun and viable than it is currently!
Self-Publishing
Adobe PDF support opens a whole new window on publishing for Kindle. PDF will make it easier than ever for individuals to self-publish and distribute documents in an environment optimized for reading. Educators and professionals, in particular, can benefit from being able to generate non-revenue-generating content that can be supplied to a group of people and consumed via Kindle's E-Ink screen. Educators may put together hand-outs and supplements that can be distributed in-class.
The DX is far more than just the larger premium-priced "hardcover" version of the "soft cover" Kindle 2. Instead, when it comes to the various different types of content the DX can display beautifully the Kindle DX has the potential to re-write the e-book rules — digitally of course.