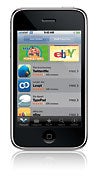 Apple yesterday warned iPhone application developers that all apps submitted for iTunes App Store approval must be compliant with iPhone OS 3.0. In an e-mail sent to registered iPhone developers, Apple said all new apps will be tested for approval on the latest beta version of 3.0. Cupertino said it may also remove any apps currently in the App Store if they do not work on the iPhone's new operating system.
It's not surprising that Apple is demanding new and old software to be compliant with the latest version of the iPhone OS since most users will find it easy to upgrade to 3.0 soon after it is released. . IPhone OS 3.0 will be free to all iPhone 3G and original iPhone owners, while iPod Touch users will have to shell out $10 for the new OS.

Apple may also want to be sure that applications work with the new parental controls feature for iPhone apps uncovered in the latest beta version of 3.0. The parental controls feature would allow Apple to offer a wider variety of content and restrict more explicit material based on an iPhone user's age.
When Apple hosted a sneak peek at iPhone OS 3.0 in March, the company said 3.0 was designed to be backward compatible with the thousands of apps already in the App Store. But since 3.0 is such a major overhaul to the iPhone, Apple asked developers to double-check their apps on the new operating system.
However, considering that many home-based iPhone app developers are out there, it will be interesting to see if some applications do disappear from iTunes or simply cease to work because the developer has either moved on or lost interest in the application. Problems could also arise for any iPod Touch owners unwilling to shell out the ten bucks for the new OS, as they will most likely find that newer apps will not work on an outdated system. But for the majority of iPhone and iPod Touch users, Apple's demands on developers to be 3.0-compliant should be of little consequence.
On Wednesday, Apple released its fifth beta version of the latest iPhone OS–a final version of 3.0 is expected to be ready in time for Apple's Worldwide Developers Conference next month.
Connect with Ian Paul on Twitter (@ianpaul).