We interrupt your steady stream of iPhone rumors to bring you new buzz on that other famous smartphone: the Android-powered T-Mobile G1. While its successor, the T-Mobile G2 (aka HTC Magic) has yet to hit America, there's now talk of a "T-Mobile G1 v2" that could be coming soon to a store near you.
Meet the T-Mobile G1 v2
Word of the supposed T-Mobile G1 v2 first hit when tech blog TMOToday uncovered an apparent road map of Wal-Mart's mobile launch schedule earlier this week. The map shows a G2 device becoming available this summer, with the G1 v2 following in the fall. The G1 v2 is referred to as "Bigfoot" and "Morrison" in various places.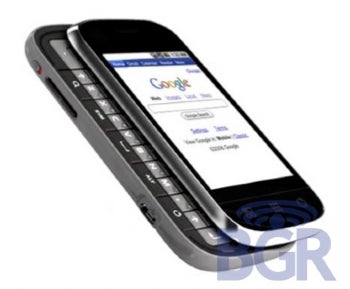 Now, we're getting a first glimpse at how the oddly named phone could look. (To be fair, Microsoft's rumored smartphone of the future is codenamed "Pink," so we'll cut HTC some slack.) The sleuths at The Boy Genius Report have published what they claim to be a leaked image of the G1 v2. The shot shows a slick-looking device with a slideout QWERTY keyboard — something the T-Mobile G1 had but the G2 lacked.
Sale Speculation
So far, no specs have been leaked, though there's speculation the T-Mobile G1 v2 will sell for about $148 with a two-year contract through Wal-Mart. That's the same price at which Wally World's been selling the G1 since last October. With all the talk of Apple considering a smaller, lower-priced iPhone (not to mention lowering its iPhone service plans), a price tag under $150 could make Android's seemingly full-size offering an attractive option.
Initial Impressions
It's hard to say much more about the alleged T-Mobile G1 v2 without having any firm facts. My initial impression, based on the limited and unconfirmed info we have, is that the phone could prove to possess a powerful combination of the G1's and the G2's strongest features: It appears to have the sleekness and pizzazz of the latter, while reclaiming the slideout keyboard capability of the former (something I, for one, value — those iPhone/iPod Touch keyboards are damn hard to use).
I'm curious to see what more we learn about this G1 v2 "Bigfoot/Morrison" phone in the coming months. I'm tentatively optimistic that it could be a strong contender — and absolutely excited to check it out for myself.
Connect with JR Raphael on Twitter (@jr_raphael) or via his Web site, jrstart.com.