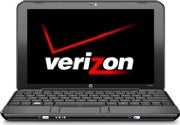 Verizon Wireless is expected to offer a netbook tied to a multi-year contract for its wireless data service. It will be the latest offering where an inexpensive netbook is tied to an expensive wireless contract. On May 17 Verizon Wireless is expected to offer the netbook HP Mini 1151NR for $200 (after rebate) that will cost you an additional $1000 in data access fees due to the mandatory two-year contract with Verizon Wireless. Interested?
Verizon is also saving the May 17 date to rollout a new portable hot spot called the MiFi. This $99 (after $50 rebate) devices is made by Novatel, and is designed to allow you to create a Wi-Fi hotspot for up to five devices — be it a notebook, camera, or gaming device.
The HP Mini 1151NR's specs are not yet available, but the netbook is part of HP's Mini 1000 family and some guesstimation (based on the Mini 1000's specs) would give it an 8.9-inch screen, a 1.6GHz Intel Atom processor, and 1GB of RAM. It would come with either Windows XP Home (SP3) or Ubuntu Linux and 16/32GB solid state or 80GB hard-drive options.
The usual retail price of a HP Mini 1000 starts at $299 so it makes sense for Verizon to subsidize $100 out of the original price — money which you will pay back tenfold in data access charges over the two years of the contract.
The advantage of a mobile Internet powered netbook is quite obvious but a few practical issues can surface. The Internet connection wouldn't be transferable to other devices; plus, if you already have an Internet-enabled smartphone (like a BlackBerry) you would end paying for two data access contracts.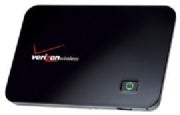 Verizon Wireless' MiFi device and service gives you a second option. This small 3.5-by-2.3-by-0.4-inch device has integrated CDMA (EV-DO Rev. A) and Wi-Fi (802.11b/g) radios that allow you to share your Verizon Wireless 3G connection with up to four devices via a Wi-Fi connection. The MiFi comes with a $40 monthly cost that allows for 250MB of data downloads. If you exceed the limit, plan on paying a 10 cent-per-megabyte surcharge. Pay more and get more: for $60 you can use 5GB (5-cents-per-megabyte overage charge) A 24-hour day pass can be purchased from Verizon for for $15.