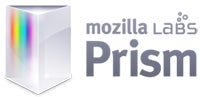 Mozilla Labs has unveiled the beta of a new application called Prism 1.0 that takes the Internet off your browser and plants it onto your desktop. Prism is both a useful Firefox extension and a desktop app — the latter for those who needlessly cling to Internet Explorer.
Prism 1.0 works in a similar fashion to the "create applications shortcuts" option in the Google Chrome browser. It culls data from the Web site of your choice and converts it into a desktop application. The app functions separately from the originating Web site, so when Firefox (inevitably) crashes, the desktop app is not affected.
The Mozilla blog presents a few improvements and benefits to using desktop apps rather than solely relying on a Web page:
New API functionality to allow Prism-enabled Web sites more desktop-like power.
Capability to set fonts, proxy settings, and other application-specific settings.
Capability to clear private data on demand.
Applications are automatically updated when new Prism versions are available.
Tray icon support, and submenus for dock and system tray menus.
Full OS X 10.4 support, and further OS X specific enhancement.
Support for SSL exceptions.
As the first bullet mentions, not all Web sites are Prism-enabled, but Mozilla claims there are "tens of thousands" already playing well with Prism, and hopes for more to come. The mainstays you'll be using — Gmail, Facebook, other favorites — are Prism-enabled.
The Prism download page presents two options: You can grab the Firefox extension or the standalone desktop app. The Firefox extension downloads via the Firebox browser just like all extensions. All you need is to reset the browser after the app is finished and a new option appears in your Tools menu: "Convert Website to Application."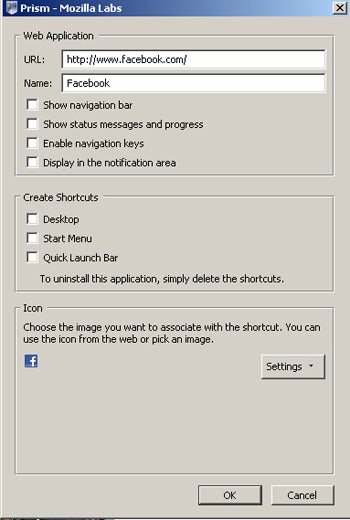 From there, you can rename the shortcut, move it to your desktop or your Windows start-up bar, and even change its representative icon (most of the automatic icons are low-res).
The standalone desktop app works in precisely the same fashion, except you have to open it and manually insert the URL you'd like transformed into an app. If you're using Firefox, I'd recommend skipping the middleman and downloading the extension. If you're using Chrome, you have this feature already. If you're using Internet Explorer, first, you need to stop; and second, you can use the somewhat clunky standalone app.
Web apps are a great timesaver for those who loathe cycling through multiple Web pages to find what they're looking for, and Prism 1.0 delivers on this. The extension is perfect but the clunkiness of the standalone app needs improvement. Since this product is still in beta, we can expect enhancements and updates in the future.