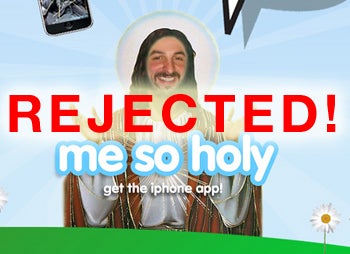 Apple is playing the moral watchdog game again, this time banning from its App Store the Me So Holy app. In yet another episode of the "Rejected Apps" soap opera, Apple found the app "objectionable," according to its iPhone developer agreement.
Developed by Benjamin Kahle, the Me So Holy app allows users to snap a mugshot with their iPhone camera and then crop and scale it to replace the face on various religious figures, including Jesus. Khale says that Apple rejected his app because it contains objectionable material.
On the rejection of the Me So Holy app from Apple's Apps Store, Khale wrote on his Web site: "Our question is, is religion really to be placed in the same category as these violent apps? Sex, urine, and defecation don't seem to be off-limits, yet a totally non-violent, religion-based app is."
Here's a short video of how the Me So Holy iPhone app works:
Me So Holy iPhone App from Benjamin Margolis on Vimeo.
But Me So Holy is only the latest in a line of apps Apple rejected from the uber-popular App Store. In late April the Cupertino company initially allowed the controversial Baby Shaker app into the App Store. But after an uproar from child advocates over the objectionable nature of the game, it was removed.
Then, last week Apple banned an update for Nine Inch Nails' iPhone app because a song (which was already available on iTunes Music Store) could have been downloaded by users via the app. The song, The Downward Spiral, was claimed to have objectionable content as well. Shortly after, the app update made it through the store.
Are you offended by the Me So Holy app? Do you find its content "objectionable"? Should Apple police decency on its App Store? Sound off in the comments.
Join Daniel on Twitter @danielionescu