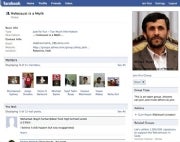 Facebook has removed two Holocaust denial groups claiming they violated Facebook's Terms of Service by promoting hate. The two groups in question, "Holocaust is a Holohoax" and "Based on the facts…there was no Holocaust," were removed from the site because messages from members posted on the group's Walls were found to be promoting hate speech.
Despite Facebook's decision to eliminate two Holocaust denial groups, numerous others remain on Facebook. These groups have names like "Holocaust: A Series of Lies," "Holocaust is a Myth," "the holocaust that the Jewish believe in is very big lie," "Holocaust denial & Anti-Zionism," three different groups named "F–K Israel And Their Holocaust Bulls–t," and "1,000,000 for the TRUTH about the Holocaust."
Facebook is allowing these groups to remain, because, in Facebook's view, these groups are engaging in legitimate discourse over a controversial issue and not crossing the line into hate speech. According to Facebook's Statement of Rights and Responsibilities users may not "post content that is hateful, threatening, pornographic, or that contains nudity or graphic or gratuitous violence."
In an e-mail to the media, spokesperson Barry Schnitt said Facebook was "monitoring these [Holocaust denial] groups and if the discussion among members degrades to the point of promoting hate or violence, despite whatever disclaimer the group description provides, [Facebook] will take them down."
The problem with Schnitt's statement is that he and Facebook fail to realize that Holocaust denial has already crossed the line into hatred. Taking a quick glance at Facebook's Holocaust denial groups shows that almost all of these groups have, at their core, arguments that fall into two main categories: the Jews are engaged in a hidden conspiracy to accomplish X or Israel should be wiped off the map.
There is also a third argument contained in the Holocaust denial groups that criticizes the State of Israel for its treatment of the Palestinians. Regardless of your personal political view, criticizing Israel's treatment of the Palestinian people is a completely legitimate argument. However, demonizing Israelis and Jewish people around the world as a way to advocate the Palestinian cause crosses the line from honest criticism to hatred.
For example, under the "basic info" for the largest group called "F–K Israel And Their Holocaust Bulls–t," it says, "ZIONISTS ARE THE WORLDS WORST SCUM EVER. THEY ARE THE LOWEST OF THE LOW, AND THE STUPIDEST PEOPLE TO WALK THE FACE OF THIS EARTH – THEY ARE DEMONS. CREATURES OF THE DEVIL."
If stereotyping an entire ethnic group, advocating the destruction of a country or calling people "demons" and "creatures of the devil" is not hate speech, I don't what is.
Connect with Ian Paul on Twitter (@ianpaul).