Do a search at Google today and you'll see a new link at the top of the page, "Show options…" That link opens up a whole new set of search tools that look like they'll be spectacularly useful and even a little fun.
The tools let you find only results published in the past day or past week, find only results in forums, find only reviews, or get a sneak peek at the images on the pages in your results. In addition, there are a couple of new ways that Google presents results visually. You can choose the Wonder Wheel, a visual search result that shows your central topic in the middle with spokes going out to related topics around its circumference. Or you can choose Timeline, which shows the number of mentions of your topic through history, and not just the Web's history. One example Google showed when they demoed Timeline included results back into the 1700s.
Google announced the new additions at a press event at their Mountain View campus today.
Here's a look at the new search options Google launched today: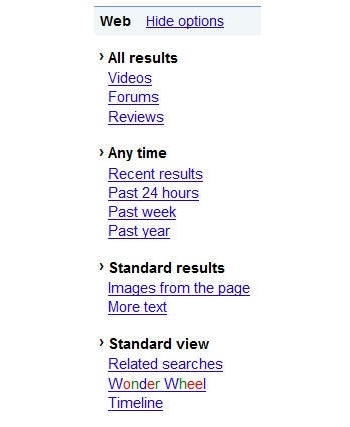 Video
Of course Google has offered video specific search for quite a while. But the layout of video search results, and even the search results themselves, were different using the new video search option than they were simply going to video.google.com. In the new option the results are more compact and there's no built-in viewer on the page. As with video.google.com, you have options for searching for only recent videos and you can zero in on the length of video you want, short, medium or long.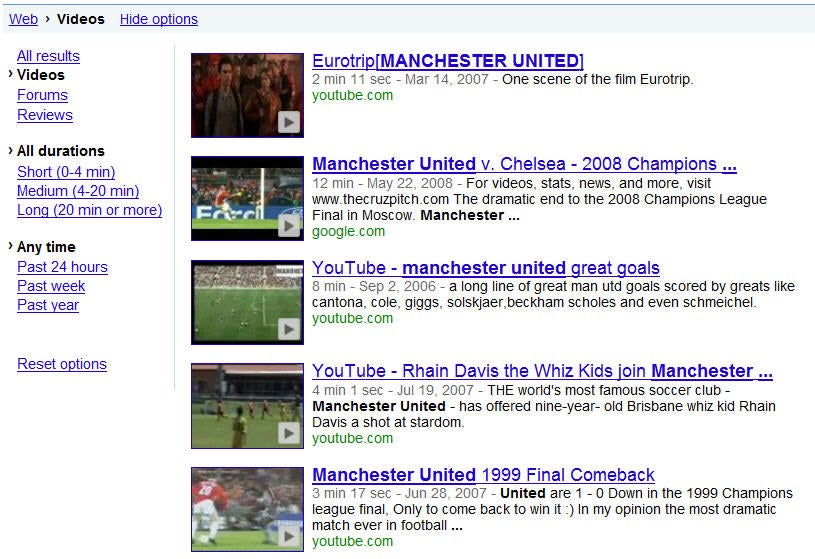 For comparison, here's the same search done at video.google.com.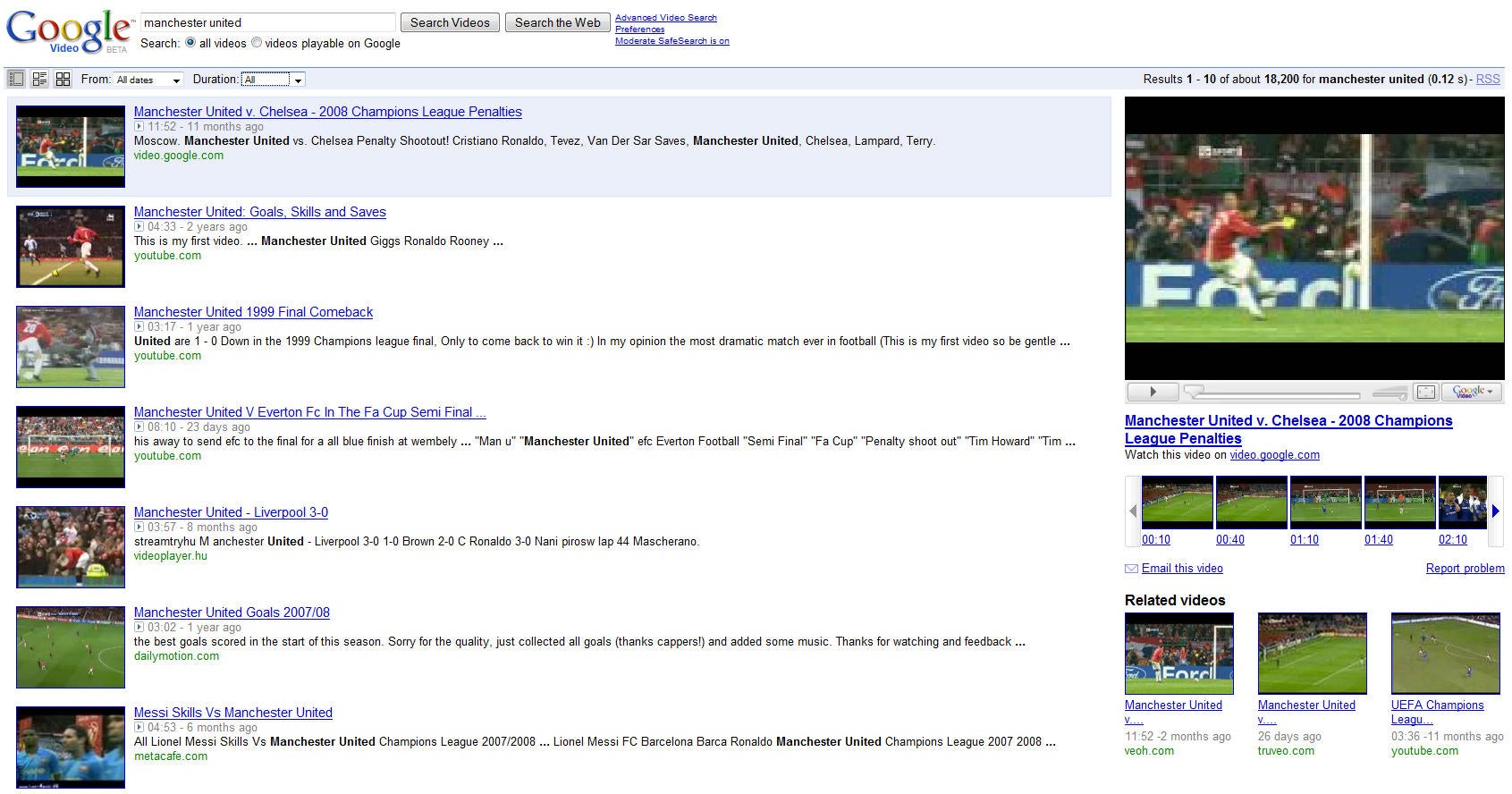 Forums
Forums search is really new, though. When you choose the forums filter, Google gives you results only from community forums and changes the information it delivers beneath each link, showing in some cases how many posts and authors on the forum and when the last post was made, so you can judge how active the forum is.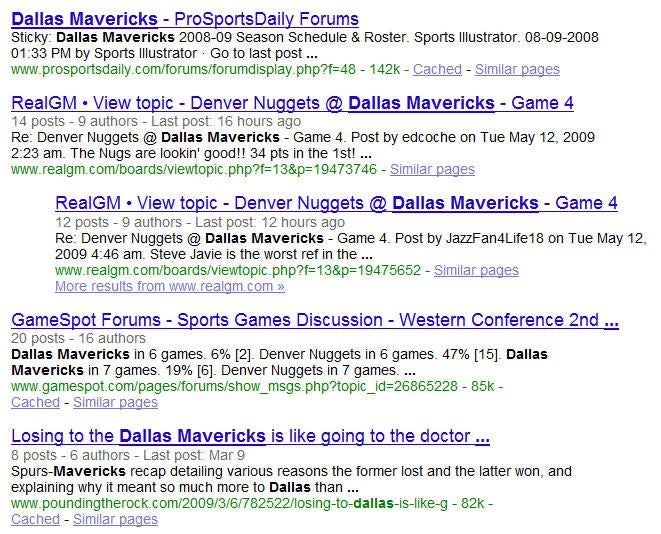 Reviews
The reviews filter will be very useful for anybody who is shopping on the Web. Enter a product name, choose reviews and you'll get links only to reviews of your product. Not only that but Google tries to divine the sentiment of the review, whether it's positive, negative, or neutral. There's no obvious indication of what the overall sentiment is — no thumbs up or thumbs down, though that would be very cool — but the snippets below the review try to pull out the salient points from the evaluation. For instance, when I searched for the Casio EX-Z80, Google pulled these snippets from one of the reviews: "The only negative aspect is the visible distortion in darker areas of the image." … "Also, in what has become a trend, the only real imperfection is the noisiness in the darker sections of the background."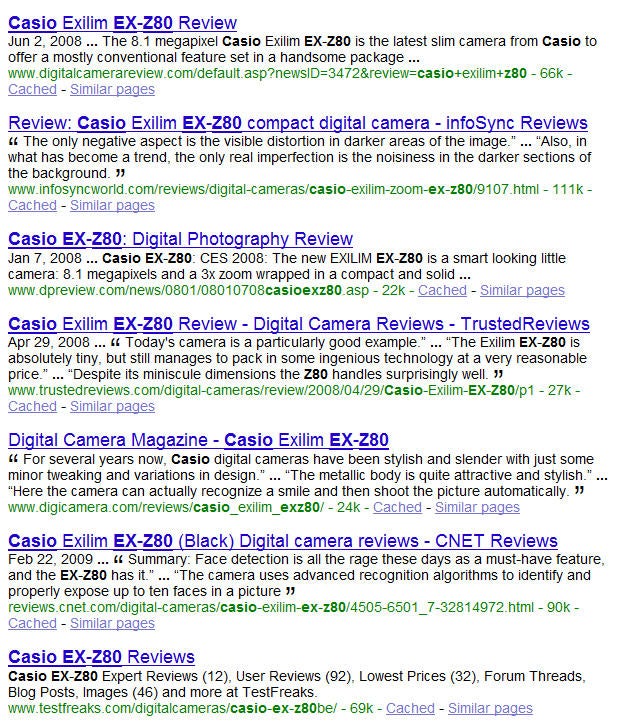 Wonder Wheel
Google's new Wonder Wheel doesn't feel like a terribly new idea. I've seen these hub-and-spoke representations of search results before from search engine companies that are probably now dead. And they're probably dead because this way of presenting results alone is not all that useful. But integrated into Google's otherwise spot-on results makes Wonder Wheel a fun way of exploring a subject. When I clicked on wonder wheel while searching for that Casio camera, I got a wheel pointing to subjects like "Casio face detection," "Casio lithium-ion battery," "Casio NP 60," etc.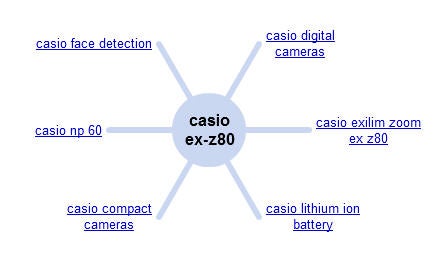 Timeline
Timeline is a good way to get a feel for the buzz about the topic over time. For instance, I searched for the term "Muslim extremist" and got a good visual feel for the evolution of the term from 1970, when it was almost nonexistent, to its heyday in 2001 and 2002 right after the 9/11 attacks, to today when its use is somewhat on the wane. Not bad for a search that took less than a second.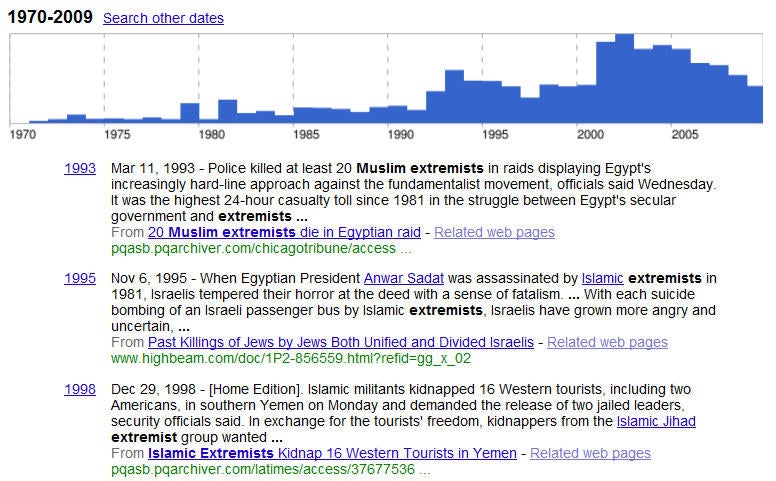 Google Squared
Timeline and Wonder Wheel are both examples of Google not simply presenting links but analyzing information on the web, extracting it, and presenting it in a format that the search engine itself creates on-the-fly. Another and even more remarkable example of that is due to launch later this month: Google Squared.
With Google Squared, you'll search for a topic and Google will pull information from all over the web and present it in a table with rows and columns. In the example presented at Google's Searchology press event today, an engineer searched for "dog breeds." He got back a table with the name of the breed in the first column, a picture one of the dogs in the second column, and additional columns with information like average size, height etc.
He added a new row by asking for information about a different breed of dog. And he could add a new column by searching for information about the energy level of each breed.
Squared looks fascinating, but when it launches it'll be part of Google Labs, indicating that it may still need some work.
Rich Snippets
Finally, Google announced plans for something they called "rich snippets." These are similar to the information that Google is providing with forum results. For links to reviews, Google will provide a snapshot of the review, if the Web site participates by inserting certain information in their HTML.
For instance, a link to a review of a new phone would include information like how many stars the review gave it, the name of the reviewer, and when it was published. When you search for people, Google will attempt to give you information like where they live and their job title so you can figure out at a glance whether you found the person you're looking for.

The company says rich snippets will be rolling out gradually.