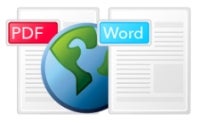 Ever wish you could edit a PDF file in Microsoft Word? Seems like that should be easy enough, especially when you're dealing with a document that's mostly text. Alas, a PDF is really just a collection of images, meaning you can't edit the contents in their native format.
Of course, there are pricey software utilities that will convert a PDF into Word-friendly text. But there's also PDF to Word, a Web service that accomplishes the same thing absolutely free.
All you do is upload your PDF and choose your desired output format: Word or Rich Text Format. Then you sit tight while the service works its magic, eventually sending you an e-mail with a link to download the converted document.
Best bet: Choose Word over RTF. Word conversions end up looking remarkably similar to your original PDFs. Ultimately, the quality varies from one document to another depending on its content, layout, etc.
This is one seriously handy tool, and you can't beat the price.