As of today you can point your iPhone to the App Store and download Sling's place-shifting TV app. After a very long wait, the app finally made it into Apple's bonanza store, but Sling's attempt proves to be quite expensive and crippled from birth.
To enjoy place-shifted TV, you must first have a SlingBox (starting at $147) and then purchase the $30 iPhone app. If you count in the cost of your iPhone and call plan and your home broadband access (which you need for the SlingBox), you get a very expensive mobile TV-viewing experience. Oh, and you can do it only via Wi-Fi.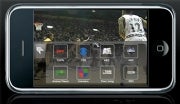 Sling's iPhone app can play your place-shifted TV only via Wi-Fi, thanks to AT&T, which has a strict no-SlingBox policy. AT&T said in an official statement last night that Sling's app "could create congestion and potentially prevent other customers from using the network." On top of that, it's prohibited under the carriers' TOS, which considers the iPhone a personal computer.
The Wi-Fi-only TV-watching in Sling for iPhone misses the whole idea of having a phone that can do everything, anywhere (hear that, Skype?). While it's AT&T's fault for not allowing SlingPlayer for iPhone to stream via 3G, Sling put out an expensive app out there as well. Meanwhile, BlackBerrys and WinMo phones can enjoy 3G streaming.
SlingPlayer for BlackBerry, Nokia, and Windows Mobile phones has the same price tag as the iPhone counterpart — $30. But the question is whether the crippled iPhone version should cost the same as the other mobile versions, which allow the all-important 3G viewing.
Purely as an iPhone application, SlingPlayer gets the job done. You can quickly move among channels by swiping on the screen and the translucent menus are appealing. On the downside, the app doesn't take full advantage of the iPhone's screen, as even in letterbox mode it still displays black bars around all four sides of the picture (read the full Hands-On).