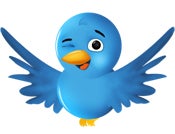 In an effort to curb confusion among the tweeting, Twitter has removed a key ingredient of its social networking capacity and angered many loyalists.
Back in the days of yore — or the pre-Oprah era — users were able to see all @replies on the page of someone they were following, regardless of whether they were friends with the person receiving the reply. Apparently the massive throngs of new users were confused by this option — which was optional to begin with — so Twitter turned it off completely. That means you are now only able to see @replies directed at people you are following.
Sounds a wee bit confusing, and not a big deal, right? Not so. Removing this Jack of Hearts threatens to take the whole card castle down. It effectively closes off multiple conversations. If two friends — only one of which you're following — are discussing something you're interested in, you used to be able to check out the other person, perhaps make a new electronic acquaintance. Now that conversation is private. The subtext here is that Twitter is more interested in keeping its brand-new minions — yes, the ones that fly away after a month — than stabilizing the loyalty of early adopters.
Angered fans have created a #fixreplies conversation thread that is demanding Twitter reverse its decision. Twitter CEO Evan Williams responded: "Reading people's thoughts on the replies issue. We're considering alternatives. Thanks for your feedback." So perhaps this problem will be fixed by the time you're reading this. But is that really the problem here, or is it Twitter's unhesitant ability to turn its back on those who made the service popular to begin with?
Many theorized that the wave of celebrities and spammers would destroy Twitter. Perhaps with Twitter's decision to dumb down its service, those theories have been made reality.