Zeno Stash is a throwback to the days when programs didn't have a feature list a mile long. Stash is a very simple–but still useful–text management tool. It easily fits on a tiny flash USB drive; requires no installation, DLLs, or registry access; and provides a very useful service. It creates a database of text data, each entry consisting of a short title (100 characters) and up to 32K of text. Titles are arranged on the left side, you read the text on the right. No fonts, no styles, no inline graphics, no tables. Just text.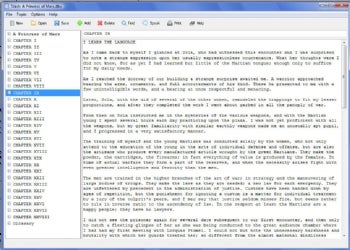 You can use Stash as an e-book reader (though you'll need to convert most ASCII e-books into Stash's format, a fairly easy process). Aiding this is a text-to-speech function which will "read" the book to you, in oddly stilted but very understandable fashion. Stash is also useful for things like client notes, addresses, tech manuals, and anything else which can be broken down into distinct chunks and which does not require extensive formatting. The extreme lightness of Stash makes it ideal to toss on a flash drive, and the "no install" nature of it makes it excellent for bringing personal data to remote computers where you may not have the privileges to install a more robust program.
Stash can, of course, open and save multiple databases, but only one can be viewed at a time. You cannot launch more than one copy of the program.
Stash is inexpensive and useful, if you need this kind of micro-database.
Note: Only 50 items can be stored in this free demo. The demo is not time-limited.