The energy consumption from communications technologies and consumer electronics devices, including computers, mobile phones, and televisions, could be reduced by more than 50 percent through the use of energy-efficient technologies that exist today.
The claim comes from "Gadgets and Gigawatts," a publication from the International Energy Agency (IEA) that was released Wednesday in Paris. The IEA is an international group that advises its 28 member countries, including the United States, on energy policy.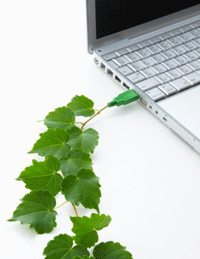 While electronic devices account for only 15 percent of today's household electricity use, their share is growing rapidly, the report states. The IEA is urging governments to implement policies that would make TVs, laptops, cell phones, and other tech equipment more energy-efficient.
While the fact that consumer tech could be greener isn't exactly earth-shaking news, the IEA report does contain some fascinating details that underscore just how pervasive personal tech has become in the daily lives of humans around the globe:
More than half the world's population subscribes to a wireless phone service.
Sometime in the next seven months, the number of people using a personal computer will pass the one billion mark.
Nearly two billion TV sets are in use. That's roughly 1.3 sets in every home that has access to electricity.
There are nearly 5.5 billion external power supplies out there. (Many not in use, certainly.) By comparison, The World Factbook places the human population at close to 6.8 billion.
Without new policies, the energy used by consumer technologies and electronics will double by 2022, and triple by 2030 to 1,700 Terawatt hours.
That's a lot of juice. "This increase up to 1,700 TWh is equivalent to the current combined total residential electricity consumption of the United States and Japan," said IEA Executive Director Nobuo Tanaka in a statement. The need for significantly more energy will jeopardize global efforts to reduce greenhouse gas emissions, he said.
So What Should We Do?
Better equipment and components can cut power consumption, but the largest area for improvement must come from making hardware and software work smarter together. Example: Future devices should use energy only when needed, unlike today's energy-vampire appliances that use electricity when left idle but plugged into an outlet.
Things are improving, however. "Many mobile devices are already far more efficient in their use of power than other devices which run off a main electricity supply," said Tanaka. "Because extending the battery life of a mobile device is a selling point, manufacturers place an emphasis on designing products which require very little power."