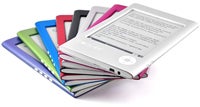 Move over, Kindle, a new e-book reader is in town–and it's coming from a newcomer to the consumer electronics universe. UK-based Interead is the first company beyond heavyweights Amazon and Sony to offer both a hardware reader and a sales pipeline for acquiring e-book content. And while its initial offerings–the Cool-er Reader and an e-book download site, Coolerbooks.com–are a little rough around the edges, together they offer a viable, no-frills alternative to Amazon's Kindle and Sony's Reader.
"Cool-er has been designed to fit the requirements of a reader. They want it to be portable, light, to fit in a jacket pocket or purse, and they want it to do what they want to do in a simple manner," posits company founder Neil Jones.
In January, dissatisfied with the current status quo in e-book readers, Jones began a rapid four-month development cycle for his vision of an e-book reader, partnering with a Taiwanese manufacturer on the device's design and production. The resulting Cool-er Reader is entering production now and will be available at the end of May. The Cool-er Reader will cost $249, as compared to the Amazon Kindle 2's $379.
Some aspects of the Cool-er Reader will sound familiar to e-book aficionados: It has a 6-inch E-Ink screen, 1GB of onboard storage (good for about 750 to 800 books), and an SD Card slot (as found on the Sony Digital Reader PRS-700 and the first-generation Kindle) for expanding data capacity by up to 4GB. The device weighs 6.3 ounces — as little as half the weight of other e-book readers–and it's just 8.6mm thick, making it slimmer than the Apple iPhone 3G (which also is an e-book reader through several apps, including a version of Kindle).
The Cool-er Reader can handle EPUB-formatted books, Adobe PDF files, text files, and JPEG files. It can also support eight languages simultaneously (though you can manually change the device's language to one of the supported eight languages, too). The device has an MP3 playback caoability, too, for use with audio books.
Hands-On Impressions
I've been using a late-production Cool-er. Though it is a promising first-generation unit, it's not without its rough spots. The navigation menus are inelegant and lack the general accessibility of its competitors' menus. It has only a 2.5mm headphone jack instead of the standard-issue 3mm jack (Jones said that he chose the smaller jack because of the unit's slim design). And the device's buttons are noticeably stiff.
But I found a lot to like, too: Because the Cool-er is a featherweight device, it's easy to carry. And it comes in an array of eight colors–from sober stalwarts like matte black and silver to peppier hues like green, blue, red, and pink. The unit has a convenient mini-USB port on the bottom, for charging and for data transfers. (Check back later for a more complete update on how the Cool-er works.)
How an unknown quantity like Interead will fare against the establishment remains to be seen, but Interead has launched an e-book store, too–Coolerbooks.com. There, the company offers over 260,000 e-books for sale. That's substantially more than the 160,000 titles in Sony's digital book store's digital stacks (not counting Google Book Search), Jones notes, and about 4000 more than Amazon makes available. Interead plans to sell the books at 25 percent off of their list price for Cool-er Reader owners, and at 20 percent off list for everyone else.