Gmail is making the frustrating process of switching e-mail providers just a bit easier. Google introduced a new feature for its Webmail service that allows new users to easily import all their e-mail and contacts from Hotmail, Yahoo, or AOL accounts, just by typing their username and password.

The feature allows new Gmail users to enter their Webmail account details into Google's service, and over the next 24 to 48 hours all their e-mails and contacts will be automatically imported to their new account. A 30-day test-drive mode is also provided, giving you time to decide whether you like Gmail.
The new importing feature is available for all new users, and will be slowly rolled-out for older accounts over the coming weeks. Older users can still use POP3 mail fetching and importing contacts via a CSV file while they wait for the new feature.
Google also added a few more features for Gmail yesterday. The recently-launched standalone contacts manager can now unify all your contacts by importing contacts from Outlook, Outlook Express, Hotmail and Yahoo in CSV format, and OS X Address Book in vCard format. A birthday field was added upon user request as well.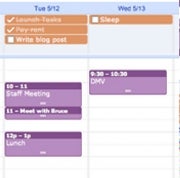 The Google Calendar app got an update and can now support tasks, in a similar way to how Gmail handles them. While they appear in a separate calendar in the app, Google Calendar tasks cannot send SMS notifications or synchronized with other applications.
Gmail is trailing webmail leaders Yahoo, AOL and Hotmail, with approximately 29.6 million users. It will be interesting to see over the coming months whether this balance will shift with the introduction of this easy to switch feature in Gmail.
Follow Daniel on Twitter @danielionescu