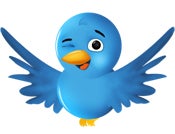 Twitter has yielded to user outrage and reinstated its @reply feature. On Tuesday, Tweeps (Twitter people) around the world were angered when Twitter yanked the opt-in feature that allowed you to see Twitter replies that were sent from people you follow to people you don't. Now, it's back–but in a revised form.
Many said this feature gave Twitter a cocktail-party-feel, and was a way for users, including myself, to find other interesting people to follow. If you saw an intriguing post from someone you were following directed at a user you didn't know, you would find the message that caused the reply in the first place and see who the person you were following was talking to. If you liked what the new person was saying or thought they might be interesting, you'd follow them. Twitter's change to the @reply system made that type of conversation tracking impossible since it hid any @replies created by people you were following.
Tweeprage was swift after Twitter's change and by 1 PM PST yesterday, the @replies feature was back, but with a catch. Here's how the new system works: imagine you're following Ashton Kutcher on Twitter, but you're not following his wife Demi Moore. If Ashton types in Demi's username to send her a message or a reply via Twitter you will see it; however, if Ashton hits the reply button to respond to Demi you won't see his message to her. Under the old system–which you had to opt into under the settings menu–you would see every tweet coming from Ashton directed at Demi (excluding direct messages which are private).
When Twitter first yanked the reply feature, the information network said it did so because the feature was an "undesirable and confusing option." Many regular Tweeters voiced their outrage on Twitter using the "#fixreplies" hashtag to get the word out, prompting Twitter to rethink their decision. After reinstating the reply feature, Twitter further explained that it removed the one-sided replies because the feature didn't scale, and Twitter has grown rapidly in recent months. Twitter also said the replies feature was blunt, inconsistent, and confusing.
Before pulling a feature that many Tweeps enjoyed (and one that was an opt-in feature in the first place), Twitter would have done well to use Facebook as a case study in user outrage. Facebook's relationship with its user base is best described as a pendulum, with Facebook pushing through new features or other changes only to immediately swing back to where it started to avoid a user revolt. First there was the information sharing Beacon feature that inspired a big debate over privacy; then there were two revolts over layout changes; and most recently there was the Terms of Service debacle. Facebook's woes have resulted in a crowd-governed social network–which may or may not be a good thing–with a hybrid layout based on two competing designs. If Twitter's not careful with its tweaks and changes, it could end up with a Facebook-sized PR headache as well.
Despite Twitter's acquiescence, many users are still not happy with the replies reinstatement since it doesn't give users the old functionality they'd grown used to. But Twitter says it is working on a new feature that will give you "far more control" over the accounts you follow. Twitter says this will be a "per-user" setting. I'm not sure what that means, but is it just me or do I smell the faint waft of service charges heading towards the Twitt-o-sphere in the near future?
Hot Tip: British actor and Twitter addict Stephen Fry says that putting a "-" or any other character right before an @reply will let all your followers see your one-sided replies.
Connect with Ian Paul on Twitter ( @ianpaul).