This colorful and engaging game requires strategy and a keen eye. In Fishdom H20 ($20, free one-hour demo) you help a young marine biologist populate aquariums with compatible fish, water plants, and equipment to create successful habitats for your aquatic life. To do this you need to buy fish, plants, and whatnot with money that you make by diving for treasures hidden undersea.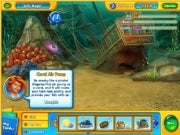 Fishdom H20 kept my 8-year-old daughter and me happily engaged for a full 60 minutes, and there were howls of protest when the demo ended. Despite her tearful and desperate pleas, however, I'm not willing to pay the $20 license fee. On my test laptop–which just barely meets the minimum system requirements–installing the program took almost an hour, and the game gobbled up an inordinate share of system resources. Even after I shut it down, my laptop ran slowly until I uninstalled the program and rebooted. As we played the game, the cut scenes were animated poorly and did not run smoothly; game play was fairly smooth, however.
If you have a relatively new computer with a fast processor and a generous amount of RAM, you might have a better experience running Fishdom H20. The game is certainly enjoyable and terrific for children, requiring critical thinking skills, basic math, budgeting, and problem solving. I suggest trying out the demo on your system before plunking down the license fee.
–Kim Saccio-Kent