You've spent your hard-earned cash on a brand new smartphone. Now it's time to put that money to work and turn your new acquisition into an entertainment powerhouse. The number of mobile entertainment apps out there is incomprehensibly large, and relatively few of them truly shine. Never fear: We've scoured the Web and found the best music, video, and gaming apps for your iPhone, BlackBerry, Windows Mobile, or Symbian smartphone. Most are free, but for some–as you'd expect with top-notch entertainment–a price tag is attached.
Last.fm (Free)
Available on Android, BlackBerry, iPhone, Nokia S60, Windows Mobile
With Last.fm, discovering new music has never been easier: Type in the name of an artist you like, and the app will recommend other artists based on your preferences. Last.fm, which is available for all major mobile OSs, also lets you share your musical tastes with other users. And best of all, you can listen to as much music as you want, for free.
Available on Android, BlackBerry, iPhone
Ever find yourself humming along with a song on the radio, even though you have no idea who the artist is? This cool app comes to the rescue. Open the app, play the song you want to identify, and Shazam!–the name of the song and artist show up. No more late-night googling of song titles or stray lyrics. You can share your musical discoveries with your friends or with social networks; and if you have an iPhone, you can buy the song directly from iTunes.
SlingPlayer Mobile ($30)
Available on BlackBerry, iPhone, Nokia S60, Palm, Windows Mobile
Place-shifted TV just moved from your laptop to your mobile phone. Now you can watch your favorite shows anywhere, live or recorded. Controlling your SlingBox and setting up recordings remotely have never been easier to do. And you can even catch up with the latest hit series over 3G (iPhone excluded; you must tune in over Wi-Fi). SlingPlayer Mobile doesn't come cheap, but for $30 you basically get TiVo on your phone–and that's a pretty compelling reason to buy it.
Available on Android (coming soon), iPhone
If you see someone frenetically tapping away at their phone, they're probably playing Tap Tap Revenge 2. Among the most addictive iPhone games, Tapulous's TTR2 is like Guitar Hero Mobile, only with better graphics and effects. This free app comes with a download catalog of more than 150 free songs–or you can go pro and download additional songs. Coldplay, Weezer, and Nine Inch Nails versions are available for fans (for $4.99), while Tap Tap Thursdays bring you a free top artist track each week. Tap it!
Pandora Mobile (Free)
Available on BlackBerry, iPhone, Windows Mobile, some AT&T and Sprint phones
In the spirit of Last.fm and other music discovery apps, Pandora Mobile lets you listen to customized radio stations you create on the service's site. Pandora analyzes your musical tastes and then launches a streaming station where you can explore your favorite genre. Everything you create, rate, or bookmark on Pandora Mobile will appear the next time you return to the Web.
I Love Katamari ($7.99)
In this cute game, you're a puny alien prince whose been ordered by the King of Cosmos to push around a highly adhesive Katamari ball (yeah, we think it's weird, too). The more objects you collect in a room (pencils, paper clips, etc.), the larger your Katamari gets. You can end up rolling up entire cities and islands if you're persistent enough. But unlike the original PlayStation 2 title, I Love Katamari for iPhone uses the device's accelerometer to push the ball around. Swiping the screen performs a speed roll and the effect is almost better than the original.
MobiTV ($9.99/month)
Available on BlackBerry, Palm, Windows Mobile
MobiTV brings a wide selection of high-quality channels right to your smartphone–live. Basically, it's a streaming service over the carrier's data network (3G is recommended for a decent viewing experience). MobiTV also displays an electronic program guide for easy navigation between channels. Though MobiTV's video quality might not be as good as SlingPlayer Mobile's, this service is unusually flexible and offers the largest selection of channels across all major U.S. wireless carriers.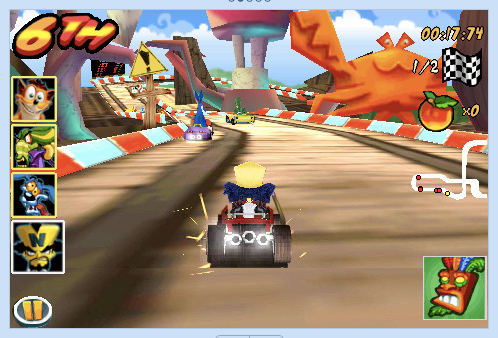 Crash Bandicoot Nitro Kart 3D ($5.99)
Available on iPhone, Symbian S60
It's hard to ignore Crash Bandicoot Nitro Kart 3D. You've probably seen it showcased on iPhone ads on TV and online. There are lots of good racing games in Apple's App Store, but this one stands out with solid tilt controls for steering, good music, and plenty of diversity via the story mode. Unlike many iPhone games, Crash Bandicoot Nitro Kart 3D permits you to adjust the accelerometer sensitivity to your liking. There are 12 stages to unlock so the game is sure to keep you busily tilting your iPhone for a while.
Slacker Radio (Free)
Available on BlackBerry, iPhone
Yet another Internet radio service, Slacker Radio stands out by allowing you to ban certain songs or artists from your online stations. Users can find new stations and enjoy good quality sound even through 3G/EDGE connections. Slacker Radio app also performs station caching on the handset's memory, so you can listen to music while traveling on an airplane or outside the cellular signal area. This feature, dynamically manages your cache (the stations you listen to more grow larger) and allows for up to 500 songs to be stored per station.
Available on iPhone only
SimCity for iPhone is one of the hidden gems of the iTunes App Store. The game looks almost identical to its PC counterpart; and though sluggish at times, it can keep you enthralled for hours–until your battery runs flat, as a matter of fact. Longtime fans of the Sim genre will definitely enjoy this mobile version, and newcomers will find it a relaxing way to waste time (if you can overlook the periodical crashes). Overall, it's a good value for your dollar, rewarding you with many hours of enthusiastic play.
Mobile App Bonanza
Learn about more great app options for your cell phone by reading these stories:
"Best Free Apps and Services for Your Phone"
"Best IPhone Apps: Office and Personal Productivity"
And for a suitable smartphone to load those goodies on, see our ranked chart, "Top 10 Cell Phones."