TucsonTJ asked the Answer Line Forum for a fast, slimmed-down alternative way to boot Windows.
The trick is to set up Windows with two logons, as you would if the computer was being used by two people. It's actually pretty simple.
First, create a new user account. To launch the new account wizard:
In XP: Select Start, Control Panel. Click User Accounts, then Create a new account.
In Vista: Select Start, type control userpasswords and press ENTER. Click Manage another account, then Create a new account.
With either version, once you're in the wizard, name the account Fast Boot and make it an Administrator account (Computer administrator in XP). You can change it to a standard user account when everything is set up.
Now that you've created the account, you need to make Windows boot to it by default, because what's the point of a fast boot if it stops for a decision and a password. (If you feel you must password protect this fast boot option, you can skip this step.)
Select Start, Run, type control userpasswords2 (note that 2; this is a different command than the one above), and press ENTER. On the resulting dialog box's Users tab, check Users must enter a user name and password to use this computer. In the list of users, select Fast Boot. Then uncheck Users must enter a user name and password to use this computer. Click OK.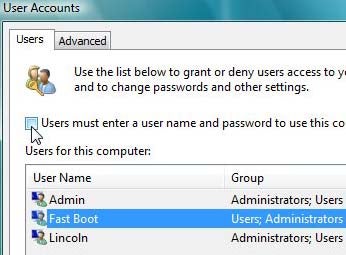 When the dialog box asks for Fast Boot's password, you can leave those fields blank.
Now when you boot Windows, it will load your Fast Boot environment by default. To get to your regular environment, simply log onto it. In XP, select Start, Log Off and make your choice. In Vista, select Start, the shutdown arrow (the one to the right of the lock), then either Switch User or Log Off.
Of course, a fast boot option isn't of much use unless it boots fast:
While you're still in your old logon, select Start, All Programs. Right-click Startup, and select Open. Then repeat that process, only this time, select Open All Users.
Now consider every icon in the second Windows Explorer window you just opened (the All Users one). Drag any that don't seem necessary for your Fast Boot environment to the other Windows Explorer window.
Now log off and on again into Fast Boot, and get passed all the introduction junk Windows throws at you the first time you boot into a new logon. You might also want to pick different wallpaper (Desktop Background in Vista) than you use in your old logon; it keeps you clear about what environment you're in at the moment.
Once again, select Start, All Programs. Right-click Startup, and select Open. Anything you don't need? Delete it.
Now select Start, Run (you can just select Start in Vista), type msconfig, and press ENTER. Click the Startup tab. Scan the Location column for anything that starts with HKCU (which stands, by the way, for HKEY_CURRENT_USER). Uncheck anything here you can do without.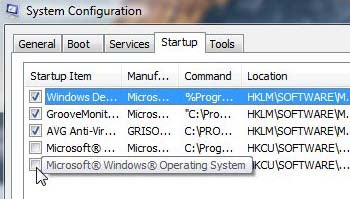 If you're using Vista, see 12 Unnecessary Vista Features You Can Disable Right Now for other ways to lighten Fast Boot's load. Consider the first item in that article, the Sidebar, a must. Vista loads much faster without it.
Read the original forum discussion at http://forums.pcworld.com/message/217139.
Add your comments to this article below. If you have other tech questions, email them to me at answer@pcworld.com, or post them to a community of helpful folks on the PCW Answer Line forum.