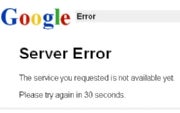 Google dealt with another service outage Monday that impacted users around the world. Today's service outage, which began at approximately 8:30 a.m. EDT, appears to have affected only Google's popular Google News service. As of this writing (9:44 a.m. EDT) the service outage had not been fully resolved. People have reported that when trying to access Google News they were met with a "503 Server Error" message and "Please try again in 30 seconds." Others could access Google News, but the site was not displaying pages correctly, or when links to other Google News categories were clicked, more "Server Error" messages appeared.
(UPDATE: Access to Google News appears to be restored (9:50 a.m. EDT). Users are reporting that the service interruption to Google News, which lasted approximately 1.5 hours, is over.)
The outage was been reported by users from California to Massachusetts and as far away as Sydney, Australia, India, and the United Kingdom. Twitter also lit up with users complaining of the outage.
There are no reported problems of Google News in some parts of the world, such as Tel Aviv, Israel. Other Google services, such as Google.com, Gmail, and YouTube appear to be working fine and are not affected. This latest hiccup by Google is not as severe or as a widespread as Google's service outage earlier this month. However, this latest Google stumble tarnishes, yet again, the company's image as one of the most reliable Internet companies.
It's unclear what caused the outage. Google has not responded to e-mail inquiries regarding this matter.
UPDATE: 1PM EDT Here is Google's official response:
"Earlier today, Google News was temporarily unavailable for some users. Beginning at around 5:35 AM, Pacific Time, some users began experiencing slower-than-usual service from Google News, and between approximately 6:25 AM and about 7:00 AM, Pacific Time, a small percentage of users saw a 503 server error, along with a message to try their requests again later. This issue has now been resolved.
We know how important Google News is to our users, so we take issues like this very seriously. We apologize to those users who were affected."