Scribd has been called the YouTube of the eBook world, a title earned by its fast-rising popularity and its social networking approach to digital distribution. Realizing that the Amazon Kindle and eBooks are becoming a permanent fixture in our reading culture, Scribd today opened a beta version of the Scribd Store, which allows users to purchase digital copies of texts from a variety of independent publishers and authors. The best part: authors and publishers keep a hefty 80 percent of revenue.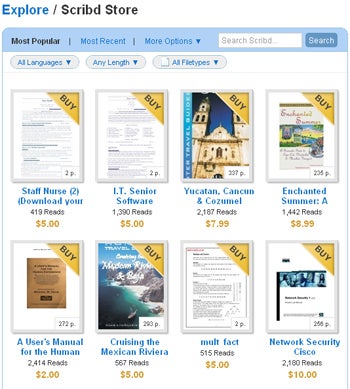 Authors can now slap their own price sticker on the text and add digital copy protection to a document. Authors can also choose to forgo protection and publish as an unprotected PDF, which would allow the document to be read on the Kindle and via the Kindle's iPhone application.
Salable texts are processed through a copyright verification system to ensure users aren't scanning copyrighted texts and selling them.
Clearly, Scribd hopes to give Amazon a run for its money; and thus far, it appears as though it will enjoy some success. The company is opening new channels for allocation outside of Amazon.com, which should come as a welcome relief from the release delays of conventional publishing houses and Amazon's stricter policies of price-setting and distribution rights. Scribd is also in the process of creating an iPhone app of its own; it'll likely see the light of day next month.
The New York Times reports that major publishing houses have not signed onto the store yet. This fact gives independent publishing houses such as Lonely Planet a leg up in the competition, and offers self-published authors an opportunity to release their texts without hassle.
One concern about authors depending on Scribd for digital distribution is the fact that, despite the site's popularity, Scribd cannot market the same way major publishers can. That means that 80 percent revenue from sold texts may not go very far.