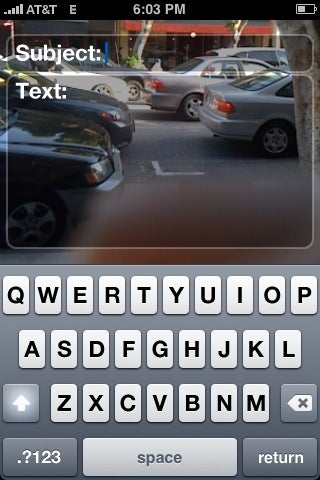 Today I read about a free iPhone app called Email 'n Walk. There are tons of iPhone apps out there, of course, many of them for free or super cheap. But this one caught my eye, in an oh-no-they-didn't kind of way. The app's goal is to make it possible for you to see the ground you're walking on (via the iPhone's camera) as you type an e-mail on your iPhone and walk at the same time.
No word yet when this app will automatically cause the iPhone to ring as you approach an open manhole cover. While we wait for that functionality to be added, let's move on to three iPhone apps I actually find useful, especially for mobile professionals and other frequent travelers.
1. Jott
I've raved about Jott before. Reason: It's one of the most useful productivity tools for those times when you're on the go. And the iPhone app is a nice complement to the service.
In a nutshell, the Jott Assistant service ($4 to $13 monthly; $7 for 5 minutes in a pay-as-you-go plan) allows you to create a quick voice memo to yourself, or to someone in your contacts, over the phone. The message is quickly, and most often accurately, transcribed and sent to you (or others) as an e-mail or text message. Jott lets you maintain to-do lists, add appointments to your Microsoft Outlook or Google calendar, create a Twitter tweet, and a lot more–all by phone.
The free Jott iPhone app puts an easy-to-use interface on the Jott Assistant service. You can start a new voice recording with just a couple of taps on the screen, for instance, which is ideal if you're moving around. I subscribe to the $4 monthly Jott Assistant plan, and I highly recommend it, though I wish you could leave messages longer than 15 seconds. (For that, you have to upgrade to the $13 monthly plan, which feels a bit too pricey for me.)
2. WiFi Directory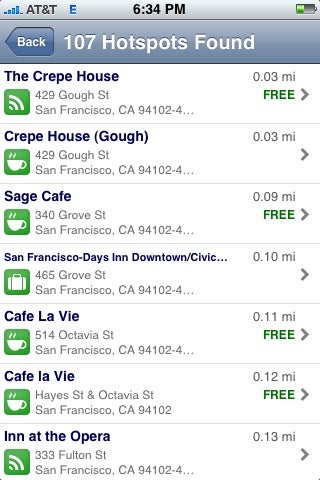 Frankly, none of the Wi-Fi hot spot finder iPhone apps I've tried do a consistently fantastic job. But WiFi Directory ($2) is fairly comprehensive and relatively up-to-date, which is more than I can say for JiWire's free Wi-Fi Finder app.
Both apps use your current GPS location to show you a list of nearby hot spots. Of course, you can get this information just by opening your iPhone's Settings, clicking Wi-Fi, and viewing the list of available networks. However, WiFi Directory also shows you at a glance which nearby Wi-Fi hot spots are free, which is the main reason why I rely on this app when sniffing out a wireless connection on the go.
3. White Noise Lite
I've become addicted to falling asleep to white noise. It's soothing, and it blocks out ambient sounds. I'm especially in need of my white noise when on a plane (I've got to block the sounds of the inevitable screeching toddler) or staying in a hotel. The free White Noise Lite does the trick for me.
The app comes with ten sounds, some of which I love (White Noise and Oscillating Fan), and a few of which I loathe (someone stop that tick-tocking Grandfather Clock!). There's also a White Noise Lite Storm Edition (99 cents), which lets you control the volume level of various storm elements (wind, rain, and thunder), and White Noise ($2), which offers more sounds, such as Cat Purring, Frogs, Pink Noise (seriously!), and Brown Noise (I don't want to know).
Your Favorites?
Aside from games and entertainment apps, what are the iPhone apps you can't live without? Which ones make your life easier on the go? Tell me about them.
Keep on Clicking
Mobile Computing News, Reviews, & Tips
Hands-On: Asus Eee PC 1008HA Asus has another netbook coming, and it feels kind of like a MacBook Air. The $420 Asus Eee PC 1008HA has a thin-and-light design that's bound to set a few techie hearts to pounding.
Turning a Page on E-Book Readers: A British startup called Interead is the first company aside from Amazon.com and Sony to offer both a hardware reader and a distribution platform for e-book content. The company's Cool-er Reader comes in various colors and costs only $249.
Watch TV on Your iPhone: If you've got a SlingBox (which starts at $147) and an iPhone, you can now use SlingPlayer to start watching "place-shifted" TV on your iPhone. But you can only do it over a Wi-Fi connection.
Suggestion Box
Is there a particularly cool mobile computing product or service I've missed? Got a spare story idea in your back pocket? Tell me about it. However, I regret that I'm unable to respond to tech-support questions, due to the volume of e-mail I receive.
Contributing Editor James A. Martin offers tools, tips, and product recommendations to help you make the most of computing on the go. You can follow him on Twitter. Jim is also the co-author of Getting Organized in the Google Era, to be published by Crown in March 2010. Sign up to have Mobile Computing e-mailed to you each week.