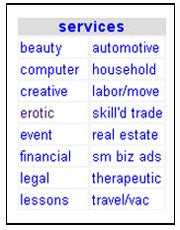 The gloves are off, it seems, in the controversy over Craigslist's "erotic services" section. The site's been under fire for the slew of sex-related ads in the category, with several state leaders calling for action and even threatening a criminal investigation against the company. Now, just days after deciding to shut the section down, Craigslist CEO Jim Buckmaster is getting back in the ring and demanding an apology.
Craigslist's 'Erotic Services' Controversy
It was just last Wednesday that Craigslist announced it would bow to the pressure and turn off the (arguably red) light on its "erotic services" section. The category is set to vanish from the site for good this coming Wednesday. It'll be replaced by a more heavily monitored "adult services" alternative.
The decision to pull the plug came only days after South Carolina Attorney General Henry McMaster called the category a "vehicle" for soliciting prostitution. McMaster demanded its removal, saying his office would pursue "criminal investigation and prosecution" against Craigslist executives if they failed to comply.
Despite Craigslist's apparent willingness to cooperate — something I suggested could set a dangerous precedent for Internet regulation — its top man has gone back on the offensive with some grand new gestures. In a blog posted Monday morning, Craigslist's Buckmaster said South Carolina's McMaster needed to "reconsider and retract" his remarks, calling his statements "unreasonable and unfair." (On a side note, also unfair: trying to keep track of who's whom in a dispute between two guys named Buckmaster and McMaster. Good grief.)
Buckmaster (the one from Craigslist) states that numerous other media companies host far more explicit ads than the ones found on Craigslist's adult-oriented sections. He then questions how far McMaster (the one from South Carolina) will go.
"Have you fully considered the implications of your accusations against Craigslist?" Buckmaster asks. "What's a crime for Craigslist is clearly a crime for any company. Are you really prepared to condemn the executives of each of the mainstream companies … that feature such ads as criminals?"
Too Little, Too Late
Buckmaster's stance is accurate enough. (It also seems oddly familiar, though I can't quite put my finger on why.) The problem is that actions speak louder than words, and this speech strikes me as rhetoric designed to save face after the damage has been done. Put simply, the time for taking a stance has passed.
Here's the thing: Craigslist caved. It agreed to take down the "erotic services" section, thereby complying with McMaster's demands and avoiding his threats of prosecution. Calling for an apology now, while I agree with the principle behind it, seems to be little more than a gesture for the sake of gesturing.
To be clear, I'm not taking a position in favor of an open sex market on the Internet — much like when I argued against the banning of a questionable Wikipedia page late last year, my opinion (or anyone else's) on the content itself isn't truly the issue. The real issue lies beneath the surface: By allowing state leaders to force the closure of an online content source without any actual violation of the law by its owner, Craigslist is opening the door to far more troubling actions could occur down the road.
The folks at the Electronic Frontier Foundation, a digital rights advocacy group, see things similarly. The EFF maintains that Craigslist is protected as a provider against criminal liability for any content posted by its users.
"The notion that Craigslist and [its] officers should be held responsible for third-party content on their site because they didn't do enough to satisfy the individual whims of respective state attorneys general is wholly inconsistent with the law," EFF senior staff attorney Matt Zimmerman explains.
"If site operators were forced to screen all third-party contributions under risk of civil or criminal penalty, the Internet would lose many of the vibrant services that have made it so dynamic," he continues. "Under such a radical re-envisioning, the Internet would ultimately become the province of rich and cautious media companies who would actively serve as gatekeepers to decide whether and how users could engage with the world."
So why, Craigslist, are you coming out with the fighting words now, now that the action's already behind you? As any of the users who advertised in your "erotic services" can tell you, once the deed is done, it's done — and no amount of after-the-fact chitchat can help your dignity recover.
Connect with JR Raphael on Twitter (@jr_raphael) or via his Web site, jrstart.com.