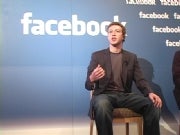 Facebook today integrated OpenID, crossing a major landmark in the openness of social networks. The step is even more significant as Facebook, the biggest social network of them all with over 200 million users, was considered resistant to being "open" — until now.
If you're planning on joining Facebook, then OpenID integration would make the biggest difference. If you already have a Google Mail account (which supports OpenID) then all you have to do is enter your email credentials and your new account will be populated automatically with your data.
Existing users get this benefit as well with an account-linking feature, so you can link your MySpace, Gmail, Yahoo and other accounts with Facebook, reaping the benefits of automatic login. This means a whole lot less passwords to remember. All your OpenID enabled accounts will use the same login credentials and all your contacts will be automatically searched on Facebook.
Another advantage OpenID integration in Facebook brings is that once you are authenticated into Facebook, you are automatically logged into into every site using Facebook Connect (including your blog, if you have one). So far, the big focus in on Google, helping you friend on Facebook all your Gmail contacts.
To link your OpenID account, you just have to go to your account settings in Facebook and go to the Linked Account section, where you can add your Google, MySpace, Yahoo, Vidoop and Myopenid accounts. Implementation of this feature is rolling out fast for all users, so if it doesn't show up on your account yet, just check back a bit later today.
Follow Daniel on Twitter @danielionescu