Safe Calculator is a neat little utility that pretends to be the basic Window calculator when you launch it. In actuality, it's a safe that can take a single file and encrypt it, disappearing it into the application itself. This tiny, free utility would be useful on the go or when sharing a public computer, when you need to write something down and then hide it.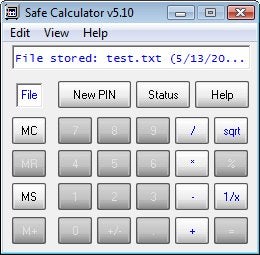 It's a good thing that it's a simple program, because you may have trouble getting any help using it. We found the feedback form at the app's native Web site, www.krilome.com, frequently unresponsive. For that matter, the site in its entirety went up and down during our testing period.
As for Safe Calculator itself, it's easy as pie. It doesn't even require installation. All you do is enter the password at any time and click MS, and "safe mode" appears, changing all the calculator buttons to ones that would be useful for an app like this. Then, click on + to store and = to confirm. After that, you can execute the file, bring it back from hiding, or delete it.
It's difficult to figure out why developer Krilome decided to make the utility look like the Windows calculator when not in use, since when you're in "safe mode," the buttons change anyway and it doesn't look anything like a calculator. Why not make a safe app that looks like a safe, instead? Do you really need that extra level of subterfuge?
At any rate, the fact that it doesn't install means that it can run from anywhere, even an external hard drive…so if you've got one file with important information that is for your eyes only, you can make it vanish with Safe Calculator.
Note: In our reviewer's experience, the Safe Calculator Web site at www.krilome.com is down frequently. The vendor assures us this is an unusual occurrence. PC World does not control the vendor site.