The Mozilla Foundation has announced a new Mozilla labs project that will make life easier for users and developers of Firefox add-ons. Called Jetpack, the new tools are designed to put an end to annoying browser restarts when installing, enabling, disabling, or deleting an add-on, and will solve compatibility issues between older add-ons and newly released versions of Firefox.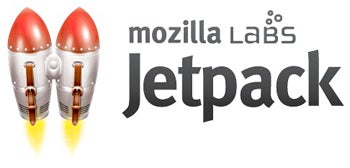 For all you budding add-on developers out there, Mozilla says anyone who knows how to create a Web page can build a Jetpack feature for Firefox with familiar Web building tools like HTML, CSS, and JavaScript. Mozilla says that using Jetpack is so easy that some features can be put together in just twelve lines of code or less. However, all these guarantees about the wonders of Jetpack come with the caveat that the project is still in early development so it could be a little rough in the early going.
Third-party browser add-ons are by far one of the biggest selling points for Firefox users. To date, more than one billion Firefox add-ons have been installed worldwide from a library of more than 12,000 features including ad blocking technology, video downloading tools, and social networking aggregators to connect with your friends on Facebook, Twitter, and MySpace, Mozilla says. But add-ons have always been a little annoying since if you grow tired of a particular tool you can't just turn it on or off. Also, anytime there's a major Firefox update it usually takes a few days before your favorite add-on releases its own update that works properly with Firefox's new standard.
How Jetpack works and what you can do today
Jetpack-based features place a small icon in the bottom right hand corner of your browser; you can use this icon to turn the add-on on or off. This could come in really handy for a Jetpack-based Twitter feature if you want to halt your tweet stream to get some work done, or for anyone who may want to temporarily stop an ad-blocking function.
Since Jetpack is brand spanking new, there are only about two Mozilla demos and seven third-party Jetpack features to try out. Mozilla warns that it has not reviewed any of the Jetpack features and can't guarantee they're malware free. When trying to download a new add-on, Firefox warns you that a Jetpack feature can do anything it wants to your browser like stealing your credit card number or e-mailing your grandmother your entire image browsing history. In the future, Mozilla plans on creating a "social trust network" that will allow community policing about the safety of particular Jetpack features. But for those of you without a credit card or who have nothing to hide from your grandmother you can get started by downloading Jetpack as regular add-on and then trying out Jetpack-based features like a Gmail Notifier, Gmail Chat Notifier, and a Weather forecast add-on.
Developing with Jetpack
Mozilla is hoping to see an explosion of new developers creating Jetpack features with the stated goal of making "the Web a better place to work, communicate, and play." Jetpack comes loaded with support for status bars, tabs, content-scripts, animations, external APIs like Twitter, jQuery support, integration with the cloud-based Bespin framework, and inline debugging with Firebug. Mozilla warns that Jetpack is being released for testing, development, and feedback at this point, so a fully formed security model for Jetpack features is still a work in progress.
To see Jetpack in action, check out the video below:
Mozilla Labs Jetpack – Intro & Tutorial from Aza Raskin on Vimeo.
Connect with Ian Paul on Twitter (@ianpaul).