Tired of being productive? Who isn't? Every now and then, all you want to do is get in front of your PC, waste some time, and have some fun.
The problem is, having fun can be extremely costly–games can be very expensive these days. So we're coming to the rescue with a roundup of ten free games and puzzle apps, ranging from the ridiculous to the fun to the engrossing. No matter how you like to play on your PC, you'll find something appealing in this collection, and you won't have to spend a penny.
(Ready to grab more than one of these digital diversions? See our "10 Terrific Time-Wasting Downloads" collection.)
Action and Strategy Games
If you've got game (or you just think you do), we've got games for you. In the mood for something goofy? Try the hilarious Chicken Invaders. We also have a fighting game and a bowling title, as well as the classic game of Othello for those times when you'd rather test your wits, not your reflexes.
Chicken Invaders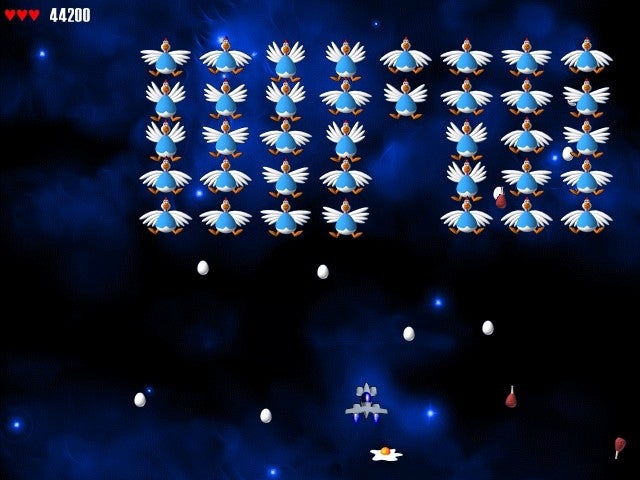 This game is as ridiculously, pointlessly entertaining as the name implies. It's a takeoff on the classic Space Invaders, except instead of firing at rows of advancing aliens, you have to eliminate rows of hostile fowl. As you shoot them down (producing drumsticks in the process), they launch their own weapons at you–eggs in the lower levels, with the addition of chicken feathers at higher levels. Each wave of marauding chickens is increasingly dangerous, and on some levels you also have to dodge asteroids and fend off giant monster chickens.
This throwback game is as simple as it gets. Just move your spaceship with the arrow keys, and shoot your weapon by pressing the spacebar–that's all you need to know. Everything about the game is entertaining and campy, beginning with Strauss's "Also sprach Zarathustra" (made famous by 2001: A Space Odyssey), and moving on to the majestic text telling the back story, much as Star Wars began. This game won't keep you occupied for a long time, but when you have 10 minutes to spare, it can't be beat.
Download Chicken Invaders | Price: Free
Little Fighter 2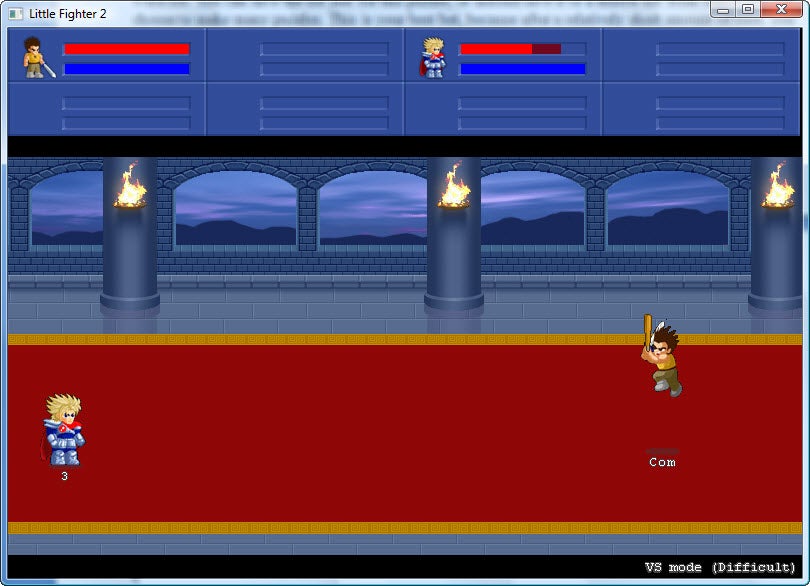 If you're a fan of fighting games, in which the whole point is to pound your opponent into submission while high-adrenaline music plays, you'll no doubt be a fan of Little Fighter 2. The goal is straightforward: Punch, kick, stab, beat, and do any other damage you can, using a wide variety of lethal weapons.
You can play against the computer or against another player–in fact, you can have up to four players going at it at the same time in a free-for-all. The game also offers assorted modes, including one-on-one, a "Stage mode" where you face increasingly difficult levels of enemies, and a "Battle mode" featuring armies that you lead.
Will you think much while playing this game? Most likely not for even a second, and that's okay. It's sheer, mindless entertainment, for anyone who likes fighting games.
Note that when you install this program, it will also install a Little Fighter 2 toolbar by default. Uncheck the box next to that option during installation if you don't want the toolbar.
Download Little Fighter 2 | Price: Free
Othello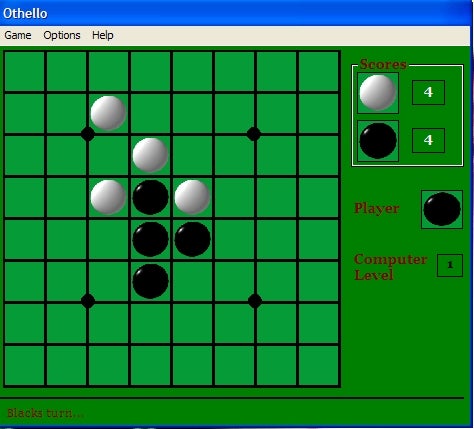 Are you a fan of the great board game Othello? If not, you should be. This game, also known as Reversi, is a classic contest of strategy in which your goal is to use your pieces to claim as many spaces as possible on a grid. You need to flank each round piece belonging to your opponent with two of your own, and when you do, their disk becomes yours. It sounds simple, but as any player will tell you, it isn't. Succeeding takes a great deal of planning and quick thinking.
This computer version of the game is a very good one. It provides three levels of play, so that you can make sure the games are appropriately challenging. You can turn the music on and off, and you can save and open games in progress. If you want to cheat, or if you're just learning, you can even have the game suggest a move for you.
This title may be a time-waster, but at least you'll be doing a lot of thinking while the minutes fly by. It's a pleasure, but not a guilty one.
Download Othello | Price: Free
Bowling PC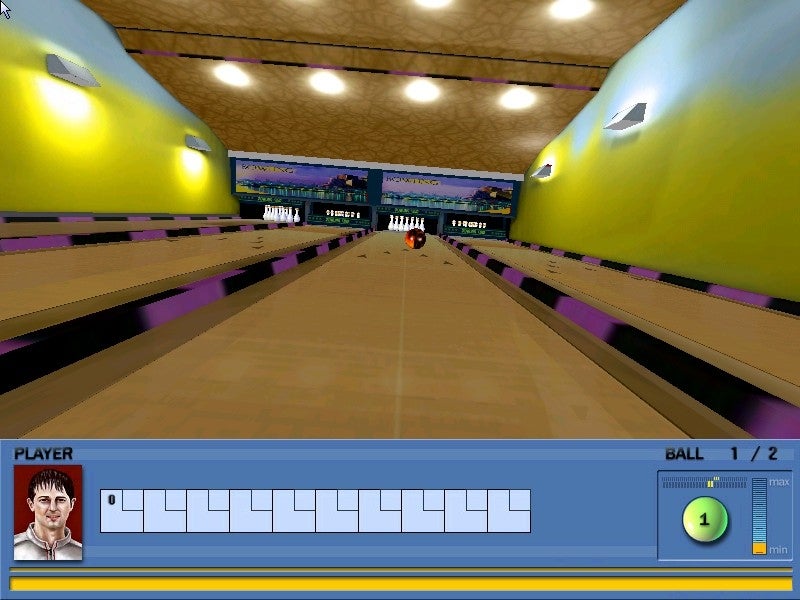 Here's a way to go bowling without having to wear tacky shoes. Bowling PC, a cinematic-looking 3D game, is exceedingly simple to play. You control the ball's placement by using the arrow keys, and then you use other keys to determine when and where to throw it to knock down the pins.
You can play against the computer, or against other people on your PC. The game offers plenty of options, too, such as for which ball design to use, whether to play rock music, and which angle the camera should take to track the ball and the game.
One nice touch is the set of audio effects that mimic how a bowling ball sounds as it heads down the alley, and when it hits the pins.
Note that when you install the software, it will also by default install the Ask toolbar and change your default search engine to Ask.com. If you don't want the toolbar or the change in your search engine, uncheck the boxes during installation.
Download Bowling PC | Price: Free
Card Games and Puzzles
The PC has always been a great environment for playing card games and solving puzzles, so we've found several excellent programs for you. Whether you prefer classics such as solitaire or you're fond of more recent challenges like sudoku, we have something here that you're sure to like.
Amazing Jigsaw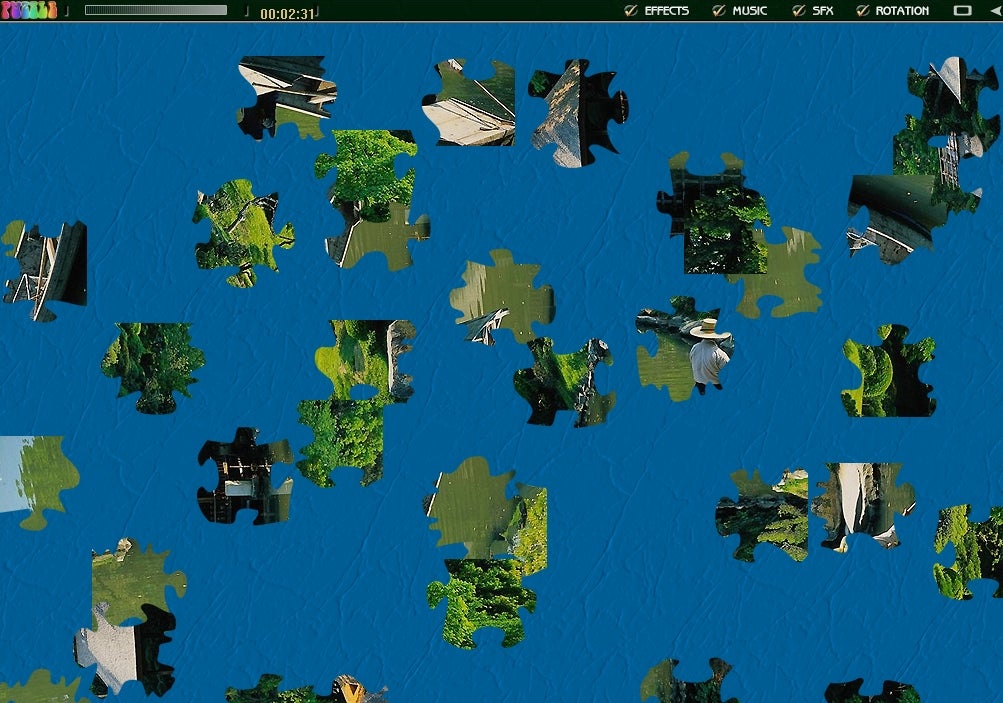 The name of this program says it all: Here, you'll get amazing jigsaw puzzles to solve. The photographs are beautiful, the game offers dozens of puzzles, and challenges range in difficulty from easy to medium to hard. The easy puzzles have 35 pieces, the medium choices have 48, and the hard ones have 165. The included timer lets you see how long you take to complete each puzzle.
The software works as you would expect. Simply grab pieces and move them around; you can also easily rotate the pieces. To make solving easier, you can have a thumbnail of the completed image appear. The game also allows you to turn music and sound on or off, as well as to save puzzles that you haven't yet completed.
Download Amazing Jigsaw | Price: Free
EclipseCrossword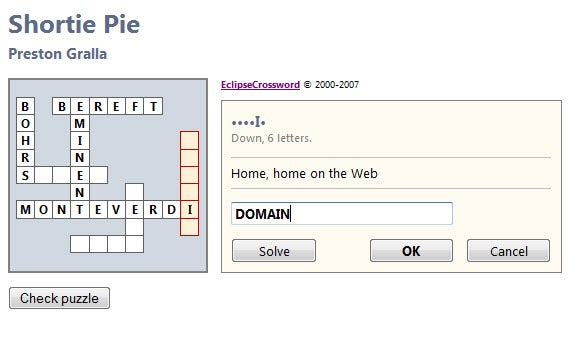 Anyone can solve crossword puzzles–the real challenge is in creating them. And that's where EclipseCrossword comes in. No, it won't turn you into Will Shortz, the crossword editor for the New York Times, but it will make creating crosswords simple.
You'll need to come up with the words and the clues; after all, you have to do some work. But crafting the clues is all the fun. Type in your words and their associated clues, and save them in a word list. You can save the list just for a single puzzle, or save it to a master list from which you can generate multiple puzzles. The master list is the better bet, because after a relatively short amount of time, you can have a large list of words from which you can fashion lots of puzzles.
Once you decide on your word list, tell EclipseCrossword the size of the puzzle grid. It then goes about its work, fitting all the words into a neat puzzle. You can review the puzzle and make any changes you want, including changing the size of the grid.
After that, the fun begins. You can publish your puzzle in assorted ways. The simplest method is to print it; to do that, save the file to disk, and then print. You can save the file in several formats, including PDF and RTF. You can also save the puzzle as a ready-to-upload Web page, complete with JavaScript or a Java applet for interactivity. Or you can instead have the program create it as a noninteractive Web page; this setup requires the user to print the puzzle out.
Download EclipseCrossword | Price: Free
Mahjongg II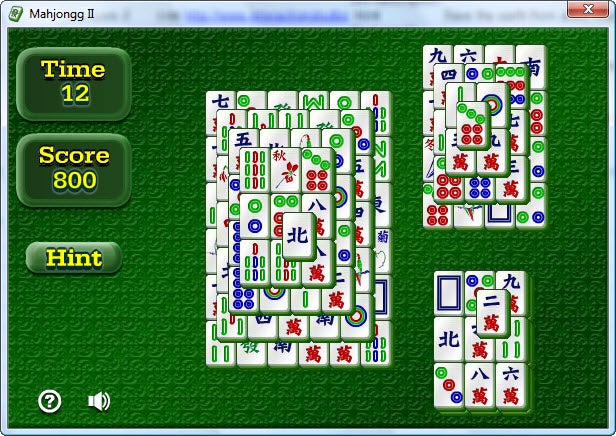 For a long time, Mahjongg solitaire games were quite popular on the PC. While those days are largely past, that doesn't mean you can't play them–and this simple, straightforward version of the game is a good option.
Mahjongg on the PC is very different from the real-life game, in which several people play in a fast-paced competition, often with gambling involved. In the single-player PC game, you're given artfully arranged piles of tiles, and you must remove available matching tiles until you've removed them all–or until you wind up with no legitimate moves and you lose, which is a far more common occurrence.
Mahjongg II is a small, basic interpretation, but it has some nice extras, including hints for when you get stuck. It also keeps track of your score, as well as the time you take to finish the current game.
Download Mahjongg II | Price: Free
Patience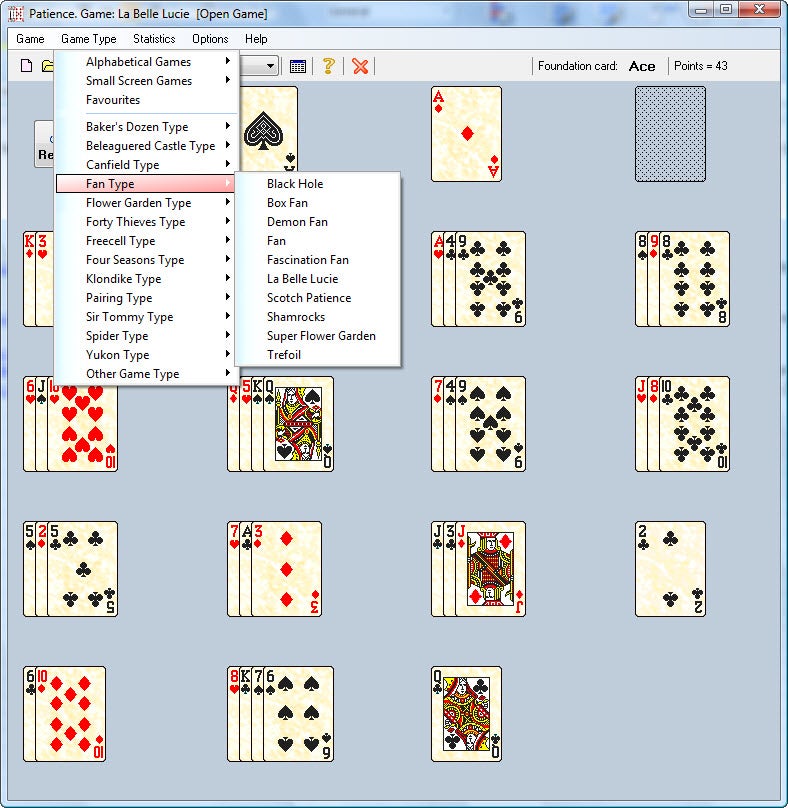 Are you a solitaire connoisseur, someone who thinks that having a dozen free versions of the game isn't remotely enough? Then you'll want Patience, which comes with more solitaire games than you can ever play unless you're locked up in solitary confinement–more than 200 of them. You get 14 major types of solitaire here, with many variants of each game. Just reading the names themselves is entertaining: How about playing the Tam O'Shanter variant of Sir Tommy Type solitaire? Or the Demon Fan variant of Fan Type solitaire?
If you're like most folks, you'll likely have no idea how most of these solitaire types and variants are played, but that's no problem at all–the software offers all the rules. The interface and card play aren't as sophisticated-looking as what you'll find in Solitaire 3D (see below), but you'll forget that in no time as you get immersed in playing.
Download Patience | Price: Free
Pure Sudoku Free Edition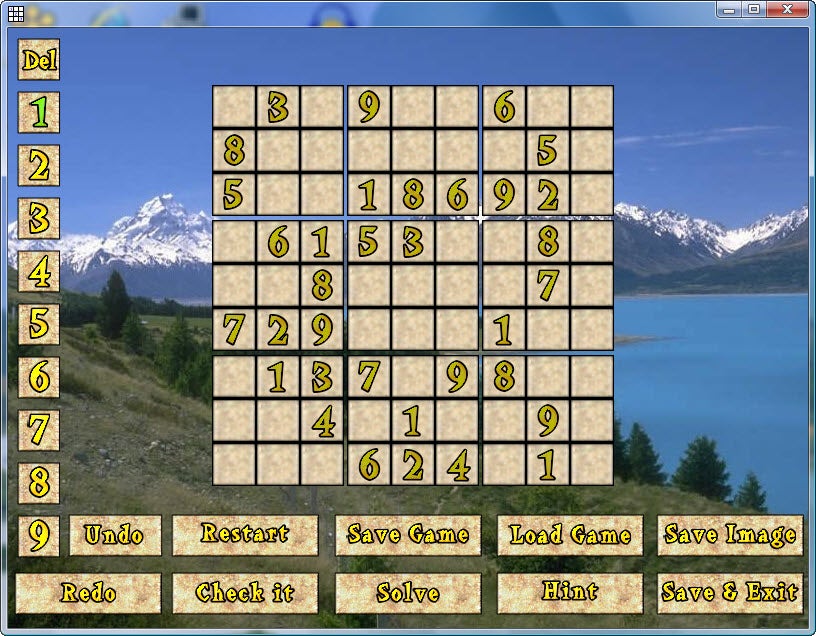 Have you been caught up in the sudoku craze yet? If not, here's a brief primer: It's a logic puzzle in which you must fill in the blanks on a nine-by-nine grid so that every row and column contains the numbers one through nine, and every three-by-three square contains the numbers one through nine. No number can repeat in any line, row, or three-by-three square. The puzzle starts with a group of numbers already placed, and your task is to complete the rest.
Many newspapers publish sudoku puzzles daily or weekly, and you can find many books of them as well. This program is an easy way to get sudoku on your PC, for free. Start the program and choose your level of difficulty, and you're ready to go. Filling out the puzzle is simple: Click a number, and then click the square where you want the number to go. If you enter a number that is already present on the same row, column, or three-by-three square, you'll be informed of your error.
One important thing to remember: To put multiple possible numbers in any square, right-click instead of clicking. That way, you can narrow down the potential answers as the game proceeds. It's almost impossible to solve sudoku puzzles without this ability, so make the right-click your friend.
The creators of the game also have a for-pay version that provides extras such as tips and the ability to save games. But you don't need to pay anything to have fun–the free version is very good already.
Download Pure Sudoku Free Edition | Price: Free
Solitaire 3D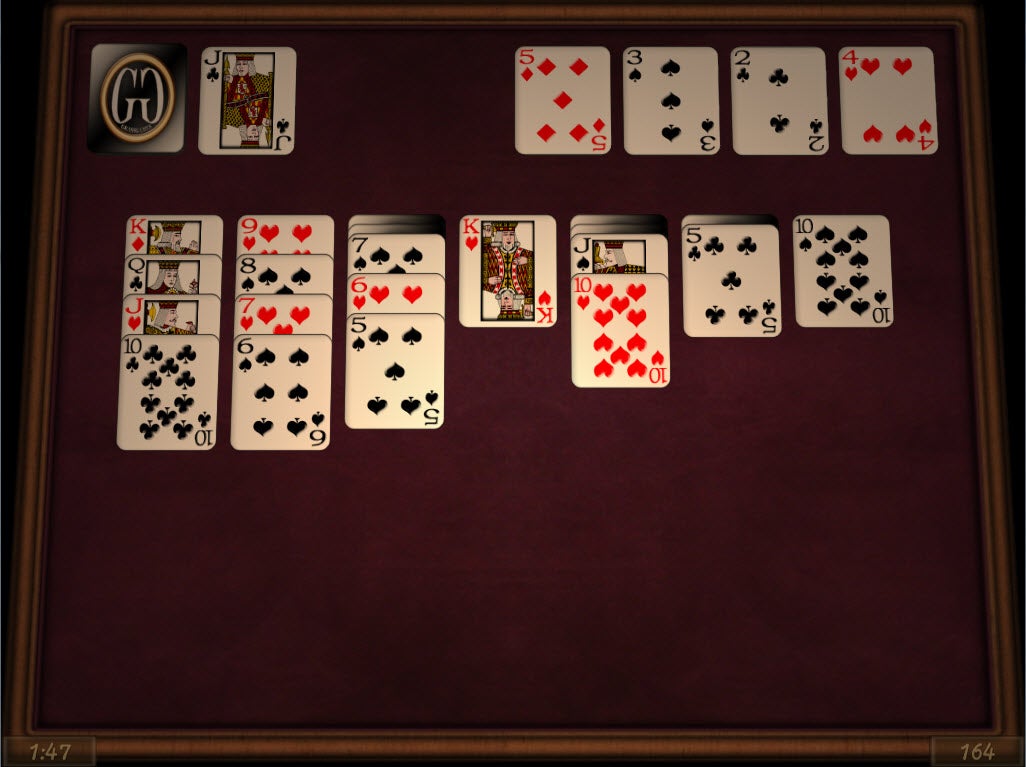 What's the biggest time-wasting PC game of all time? No doubt it's solitaire; people have whiled away countless hours sliding cards around on their computers. The next time you're on an airplane (or in a meeting, for that matter), and you see someone engrossed in their PC, peek at their screen. Don't be surprised if you see solitaire there instead of spreadsheets.
In this program you get a set of handsome-looking 3D games that feature good sound effects and animation. You'll find the usual variants, such as Klondike and Spider, but you'll also encounter others you most likely don't know, such as Beleaguered Castle. Solitaire 3D comes with six free game types; if you want to play the main other versions, you'll have to upgrade to the for-pay version.
Download Solitaire 3D | Price: Free