If you like sharing files and social networking sites, welcome to the GigaTribe. This free software-and-service combo lets you share any files and folders on your PC with friends and other contacts, and it lets you get access to their files and folders as well. Setup is remarkably simple: Install the software, decide which files and folders to share, and invite friends. From that point on, your buddies can download any of your shared files and folders, and you can do the same with theirs.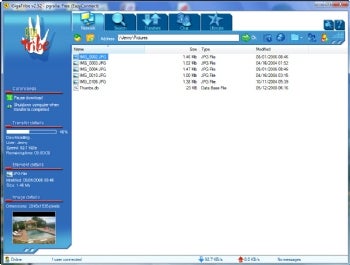 There are a lot of nice little extras in GigaTribe. For example, you can search for a filename in your contact's folders, and you can pause and resume downloads. You can also preview graphics files before downloading them, to make sure that you're getting the right picture, if you're looking to share pictures. There's also a chat module.
The software also solves an increasingly thorny problem–how to share large files with others. Many e-mail services and ISPs have limits on file sizes, but there's no file size limit with GigaTribe.
Note that you may have to tell your firewall to let GigaTribe access the Internet. Also, after 31 days, you will have to transfer files using the slower direct connection method, rather than the "EasyConnect" method. EasyConnect can speed up transfers and bypasses any potential firewall issues. To get EasyConnect again, you must upgrade to the paid "Ultimate" version, which is available in monthly ($5) and yearly ($30) licenses.
The "Ultimate" version includes additional features, such as the ability to download files faster from multiple sources, simultaneously downloading several files at once, and the ability to have more than 500 friends. You'll figure our pretty quickly whether the standard version suits your needs, or whether you need Ultimate.