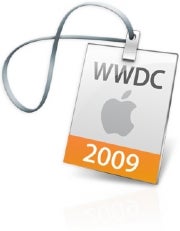 We're a little over two weeks away from this year's Worldwide Developers Conference, and the rumor mill is starting to go into overdrive. Forget Snow Leopard or iPhone OS 3.0; the chattering classes are all in a tizzy over the possibility of new iPhones and that netbook-tablety-touch thingy, and some have even dredged up the old iPhone Nano rumors — doesn't that make you feel all sentimental inside?
Here's the latest iGossip:
Apple Tablet: Despite any conclusive evidence, every tech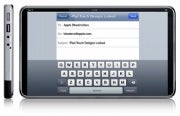 jockey from China to California (going the long way) believes the Apple Tablet is definitely, absolutely, probably being designed at 1 Infinite Loop right now. The latest Apple Tablet prediction came out yesterday from Gene Munster, analyst with investment bank Piper Jaffray. Throwing together some circumstantial evidence, Munster said he believes Apple will in early 2010 pull the wraps off a multitouch tablet with a 7- to 10-inch screen retailing between $500 and $700. Munster said the OS for the new tablet will be more robust than the iPhone's, and possibly a less-stripped down version of OS X than the iPhone OS.
Not willing to let a good rumor pass them by, BusinessWeek says it has confirmed through a "source familiar with Apple's product plans" that, just as Munster said, Apple will introduce a tablet in early 2010. That sounds nice, but these days who doesn't have a source that's allegedly "familiar with Apple's product plans?" Please. Also, let's remember Munster recently said Apple would definitely not be introducing a new iPhone at WWDC. When Computerworld's Seth Weintraub heard that prediction he only had one word for Munster: Ha!
OLED iPhone: This was a hot one from just a few days ago courtesy of the iPhone Apps Blog. Who are they? Who cares? They've got a plausible Apple rumor, and that's what counts right? The Apps blog says the new iPhone will hit the street July 17 and sport an OLED screen, 3.2-megapixel camera with geolocation functionality, 256 MB RAM (double the memory of the current iPhone), a beefier processor, better battery life, rubber-tread backing (been there, done that), FM transmitter (heard it already), an Apple logo that lights up on the back (battery drain), built-in compass and turn-by-turn directions (assuming we still have GPS next month). The OLED iPhone would come in 16GB and 32GB sizes and remain at the $199 and $299 price points. That's a nice phone, but short of the OLED screen, we've heard a lot of this before. I give them ten points for believability though.
Daring iPhone: Daring Fireball's John Gruber has a slightly different set of iPhone specs and something of a track record with Apple predictions. Gruber's iPhone would rock a zippy 600MHz processor (1.5 times faster than current iPhone models), 256MB of RAM, a compass, and auto-focus lens for improved video capability. The Fireball Phone would come in 16GB and 32GB models, stay at the $199 and $299 price points and be released in July (the 17th, perhaps?). Gruber is also willing to "wager a sandwich" the beefier iPhone will come with improved battery life. But the faster processor is the big thing in Gruber's world; he says the new iPhone's processor will be a next-generation jump akin to the switch from 486 to Pentium processors in the 1990s.
iPhone Mini aka iPhone Nano: This one also comes courtesy of Daring Fireball. Gruber's not willing to bet on it — but, well, he's heard things. More specifically, he's heard of an iPhone Mini that would be three-fourths the height and width of current iPhone models. Gruber believes we'll see the iPhone Mini sooner rather than later just not at WWDC.
Project Charlie: Of all the iPhone rumors this one is by far the flimsiest. Somebody allegedly took a screenshot of an inventory list at Best Buy. According to this list, iPhone carrier AT&T has three super-secret devices in the pipeline named Project Charlie 1, 2, and 3. Nobody knows what these devices are, who made them or when they're coming. So of course, this is clear evidence that Apple will introduce not one, but three iPhone models in the near future.
It's been a hot seven days for Apple rumors. In addition to what we've already discussed, there have also been rumors the iPod Touch and Nano will get cameras by September, and I should point out the date July 17 keeps popping up in recent references to the new iPhone.
As usual, Apple is keeping a tight lid on any surprises coming to Moscone Center West next month. However, if the last few Apple events are any guide, there will be no surprises or breakthroughs — just a new iPhone OS, and a preview or launch of Snow Leopard, the next iteration of OS X, as promised. I wish it were more than that, and I hope I'm wrong, but haven't we gotten ourselves all worked up over nothing the last two times around? Why should this year's WWDC be any different? But just in case, you might want to set aside some time for a trip to the Apple Store around July 17.
Connect with Ian Paul on Twitter (@ianpaul).