Dream Chronicles: The Chosen Child ($20, 30-minute trial) is an old-fashioned PC adventure game based around single-screen, static rooms. It will immediately remind you of Myst and its imitators. Haunted by strange dreams that interfere with the real world, your character must navigate her treehouse while she figures out what is going on.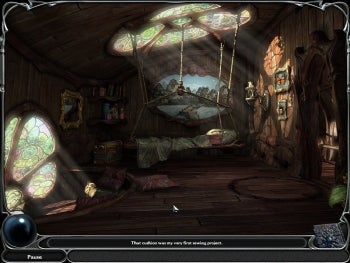 Though not as technically ambitious the Dreamfall series of adventure games, Dream Chronicles shares some similarities theme-wise with Dreamfall's dreams-invading-reality premise. Think of Dream Chronicles as a scaled-down, casual cousin to that series, though they are unrelated.
Control is simple; a single click on an object brings it to your inventory. Drag the inventory item to something on the screen to use it. There's little to no spoken dialogue, but everything in a room has a written description.
You'll have to crank the brightness way up on your monitor to see everything, as some objects are extremely difficult to see in the shadows. Detractors of this genre of game call this a "pixelhunt," and Dream Chronicles can definitely seem that way at times.
Dream Chronicles is a somewhat interesting diversion, but similar games of the last several years have let you at least rotate the static room. In the better ones, you can walk around in 3D and peek into dark corners. The technical drawbacks of this casual game interfere with gameplay and take some of the fun away. Still, you might get some enjoyment out of the ambient music and relaxed atmosphere. You might fall asleep in real life, though.
Note: The demo version of The Dream Chronicles: The Chosen Child allows for 30 minutes of play. The full version costs $20. You can get a half-off discount by joining publisher PlayFirst's monthly PlayPass program.