FlyCast fans, set your smartphone back in its charger. FlyCast Desktop brings a version of the free, ad-supported radio player, with a wide range of music, talk and weather stations, to your PC or Mac.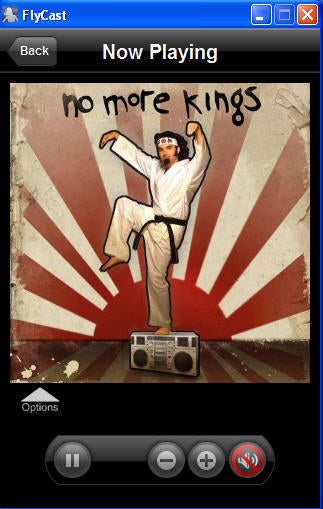 The app uses the Adobe AIR platform, and looks much like what you'd see if you used the program on your iPhone, BlackBerry or G1. After signing into the service, you'll see a guide with listings for local weather, city stations that allow for hearing broadcast stations from major cities, or genre stations with listings under Rock, Country, Alternative and other music genres. You'll also find many options for news and talk radio stations, along with comedy and other video clips.
FlyCast differs from Pandora, which also offers a free music site and iPhone app, in that you can't construct custom stations based on your own musical preferences. FlyCast has plenty of different stations to choose from, though. The app displays image ads before and during station playback that don't interrupt the station's broadcast. Although the ads are mildly annoying if you're looking at the display, they're easy to tune out if you're only listening to the music.
If you want to be able to listen to the same set of favorite stations via your phone and on your desktop, give FlyCast Desktop a whirl. If you're only listening on your desktop, you might prefer the larger display and feature set of sites like slacker.com.
Note: The download link takes you to the developer's site, which will check for Adobe AIR and install it if necessary before installing FlyCast Desktop.