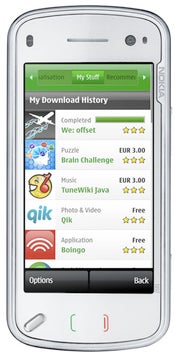 Nokia opened today the doors of its Ovi app store, making it available for an estimated 50 million Nokia devices globally. Customers can shop with their credit card or can choose to have charges added to their phone bill. But here in the U.S., we won't have access to the Ovi Store until later this year.
Australia, Singapore, Spain, Italy, Germany, Russia, Ireland and the UK are the first countries to gain access to the Nokia Ovi Store. More than 50 Nokia devices will be able to access the Ovi Store, including the forthcoming Nokia N97, expected next month. AT&T said that it will introduce the Ovi Store for its customers later this year but no specific date was given.
Nokia's Ovi Store comes as a response to Apple's highly popular App Store, following similar offerings from BlackBerry App World, Windows Mobile Marketplace and Android Marketplace. Ovi Store comes packed with over 20,000 titles from launch, including both free and paid applications and also podcasts, wallpapers and ringtones. The store can be accessed from the Download application on most Nokia phones or online.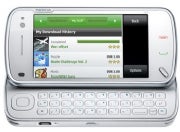 EVP of Nokia Services Niklas Savander said in an interview last month the Ovi Store will come in two variants in every market – an open version and one developed in partnership with wireless carriers. It is not clear whether wireless carriers would be able to ban certain apps interfering with their terms of service, but this could happen in the U.S., as we've seen before with AT&T and Skype/SlingPlayer on the iPhone.
Another thing delaying the arrival of the Ovi Store in the U.S. could be the payment methods Nokia's app store accepts – both credit cards and wireless bills. Nokia says the monthly billing option is one of the biggest issues when it comes to the technical integration of the store in various countries, as it could be the case with AT&T.
To see how Nokia's coming N97 flagship device compares to other high-end smartphones coming out this summer, check out the latest Smartphone Smackdown.
Follow Daniel on Twitter @danielionescu