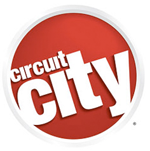 Remember when Arnold Schwarzenegger said, "I'll be back," to the police officer in The Terminator and then returned, smashing a police car into the office, and then went on to kill everyone in the building?
This is far less memorable.
Circuit City came back yesterday. Well, the Web site, at least, has been re-launched by Systemax, the same people that bring you Tiger Direct and CompUSA.
In May, Systemax bought the rights to the former electronics superstore's domain, trade names and customer information for $19 Million and a slice of future revenues for a 30-month-period. This came a little over a year after spending $30 Million in a similar agreement to buy assets of CompUSA.
In a press release, Chairman and CEO of Systemax Richard Leeds said the Web site will "further solidif[y] Systemax's position as a leader in online retailing of value-priced, branded computers and consumer electronics."
If by "leader" he means one of many online retailers that offer similar prices, then yes. Owning another failed retail giant couldn't hurt.
Systemax hopes to piggyback on Circuit City's name brand and 60-year retail success, and a visit to the Web site quickly brings back memories of the company pre-liquidation stage, with Circuit City's familiar logo splashed on the page. But, the further you dive into the site, the more reminiscent it is of Tiger Direct or CompUSA.
That's not a bad thing, but who are they trying to fool? Aren't they all essentially the same site with different shells?