I have a confession to make. When I'm in timewaster mode, I like to drop into some of the many confession, apology, and gripe sites on the Web to check on the progress of the human condition.
Status? Things are bad all over. Love is unrequited, the person in the next cube at work is a major creep, and no one is getting laid.
With all this bad news, why do I continue to play Peeping Tom through these online windows week after week? It's because witnessing people anonymously pour their hearts out is incredibly entertaining, comforting, and pleasurably voyeuristic–all at the same time.
Face it, aren't just about all of us interested in the secret lives of others?
Are They Real?
Of course, there's no way to know whether a particular declaration of guilt or longing by a stranger is true, but that doesn't seem to make much difference. Even if totally made up, some of these little online missives really ring my emotional bell. Other evoke disgust or make me laugh.
And for those of you old enough to have swiped a Penthouse magazine from your dad or uncle, you'll note that many of the sexual online confessions read a lot like the famous "Letters to Penthouse" section. I may be cynical, but I just can't believe that everyone's cousin or sister asks them to take off their pants.
Note: Most of these sites require you to provide at least an e-mail address and a password before you can post confessions or apologies. Nothing is required to read posted material, though several sites will ding you constantly to register as you peruse their contents.
Now, check your incredulity in a bus locker and let me show you around Peeperville.
Group Hug: A Smorgasbord of Wimpy Complainers
Let's start with my favorite, Group Hug. I'm a softy, and I like this site because it usually lets visitors send a virtual hug to someone. Regrettably, that function isn't working right now.

GroupHug thoughtfully defines "confess" for users: "To make confession; to disclose sins or faults, or the state of the conscience," and goes on to plead: "The confession should be about you, it should be interesting. Do not use names. Do not respond to other confessions here. It's not a message board. Group Hug!"
On this site you can read the latest confessions, try your luck with a random choice, or search on topics that especially interest you (sex, work, hurt, cry, etc.) It doesn't have to be important, as this next confession confirms: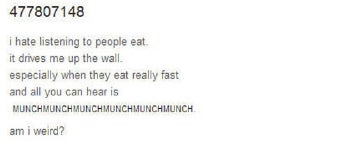 Yes!
Next: You Get to Vote
E-Admit: Give Them a Piece of Your Mind
Getting a new iPhone? Guard it better than this guy did, or you may risk denunciation by someone with a similar combination of nosiness and moral outrage:

E-Admit has a hard- to-read interface, but it's an interesting site to visit because many confessors post quick polls beneath their emotional posts. This allows the Abigail Van Burens and Ann Landers among you to offer them some guidance on their predicament. How would you vote here?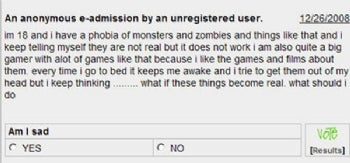 You can also send an E-Admit confession writer a private e-mail message if the writer chose that option when he or she registered. Frankly, that sounds dangerous to me. I can only imagine what kind of comments you'd get from people who don't have to identify themselves. (Inquisitive nutjobs like me keep their opinions to themselves!)
E-Admit updates the page once a day and thoughtfully provides a countdown to the refresh, so you'll know at once when a fresh crop of whiners is due to appear.
JoeApology.com
You know you blew the special birthday surprise you had planned because you dilly-dallied and missed your chance to pick up a limited-edition Darth Vader Potato Head. So why not clear the air about it?

JoeApology.com takes a different tack in dealing with people's guilty feelings. Its concentration, of course, is on the apology, which can be to anyone about anything and with any degree of genuine contrition, as the following example demonstrates:

The site asks: "Are you feeling sorry about something you did? Do you want to get something off your chest? Go on, tell me about it…and remember, it's completely anonymous. Just post your apology, no matter how big or small, and you'll feel so much better. I promise."
I hope that the "feel so much better" promise came true for the person who posted this next item, because their significant other has probably left them by now: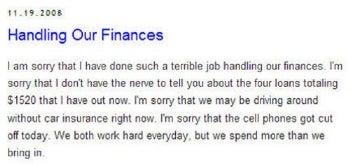 PostSecret: Confession as Art
Perhaps the most famous site in this genre is PostSecret, which treats your admissions and confessions as pieces of art. The site claims to have had more than 24 million visitors.
Unlike some of the other confession sites, PostSecret is not about instant gratification for participants. Instead, they have to create or doctor up a postcard and snail-mail it to the site's founder, Frank Warren. Per site guidelines, the secret must be true and it must be something that the teller has never revealed to another person. Here's an example: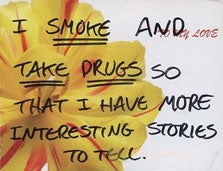 A pretty good American rock and roll band, the All-American Rejects–used the PostSecret concept to good advantage in the video for their song "Dirty Little Secret."
Only the entries that the site's proprietor choses get posted online (the selection changes weekly). However, you can view hundreds of past posted secrets, and at a third site you can view secrets that didn't make it to the main site.
If you'd like to get involved, send your confessional art piece to PostSecret, 13345 Copper Ridge Road, Germantown, Maryland 20874. You have a chance for fame if you do: PostSecret has published several books anthologizing past entries.
Another possibility is to see some of these confessional art pieces up close. PostSecret organizes traveling exhibitions of its postcards at art galleries around the country, including current displays at the Everson Museum of Art in Syracuse, New York, the Hillyer Art Space in Washington D.C., the Miami-Dade Public Library in Miami, Florida, and the Yellowstone Art Museum in Billings, Montanas. Check before you go to make sure that the exhibit is still on and to see whether others have been scheduled at locations closer to you.
Next: Group Therapy
Experience Project: Group Therapy
My last favorite to share with you is Experience Project, whose motto is "Be Real. Be Yourself."
The only thing worse than having a boss who is a fellow World of Warcraft fanatic would be having a boss who loves WoW and visits Experience Project regularly. "Are you threatening me?"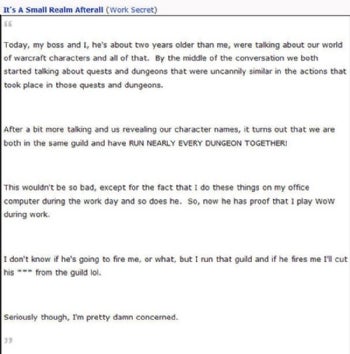 This site is fun because it gives participants a chance to join groups that share interests. (Sad to say, the "I Live in a Sexless Marriage" group has nearly 6000 members). The site also has a Confessions tab, and registered readers may comment on or rate the confessions. Unfortunately, the writers on this site tend to put way too many double spaces between paragraphs when they type.
Experience Project's home page provides a convenient left column that helps busybody visitors get to the good stuff fast by choosing among "Highest Rated," "Sex Confessions," "Love Confessions," and many others.
In Conclusion
I'll leave you with my favorite new confession that I got from a site I haven't visited much, Truu Confessions. I'll be back, though, cause this is a great one. Love the bag-over-the-head avatar and the rancid feet comment.

Looking for other stories about living vicariously online? Check out these articles:
• "The Strangest Sights in Second Life"
• "Facebook 'Pick Five' Lists: The Hottest and the Wildest"